Page 1 Page 2 Page 3 Page 4 Page 5 Page 6 Page 7 Page 8 Page 9 Page 10 Page 11 Page 12 Page 13
••••••••••••••••••••••••••••••••••••••••••••••••••••••••••••••••••••••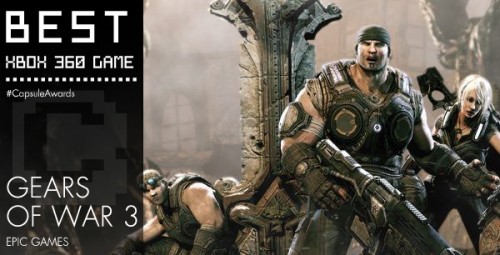 As a franchise that has spent its entire shelf life on a single console in a single console generation, the Gears of War games are still among the most popular action games available on the Xbox 360. The series has defined the standard in which third person shooters are judged in the modern gaming market. The most recent instalment: Gears of War 3 has been praised as the best version yet. The action is more intense, the story and character development deeper, and the gameplay more fluid. And let's not forget the huge variety of ways players are capable of dismembering enemy soldiers.
Gears of War 3 had taken it upon itself to conclude the saga of Marcus Fenix and Delta squad. As the last game in the franchise, this follow-up sent the series and characters off with one heck of a gameplay experience. One of the most appealing features is found in how Gears of War is able to tell and advance a story in gameplay, rather than just relying on cut-scenes which is characteristic of so many modern shooters. The character development that took place in Gears 3 was also hugely significant, especially for the protagonist himself. In this final installment, Marcus appears to be pushed to the edge of both physical and psychological endurance as ending the war for Sera becomes a feat that demands sacrifices of a particular few. His subsequent nomination for the VGA character of the year for 2011 was a result of this development.
Add in the brand new weapons, enemies, the varieties of multiplayer game types, the raw fun of the game mechanics and several new ways to engage in co-op gameplay, Gears of War 3 satisfyingly fitting finale to the series.
– Michael Marr

•••••••••••••••••••••••••••••••••••••••••••••••••••••••••••••••••••••••••••••••••••
Page 1 Page 2 Page 3 Page 4 Page 5 Page 6 Page 7 Page 8 Page 9 Page 10 Page 11 Page 12 Page 13