Page 1 Page 2 Page 3 Page 4 Page 5 Page 6 Page 7 Page 8 Page 9 Page 10 Page 11 Page 12 Page 13
••••••••••••••••••••••••••••••••••••••••••••••••••••••••••••••••••••••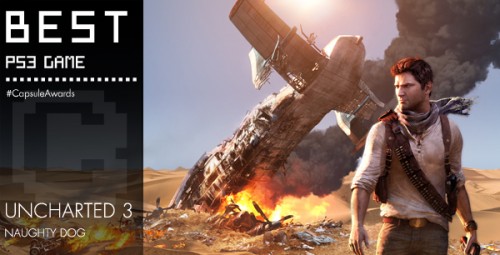 Can there be any other choice? Drake's Deception sold 3.8 million copies in 24 hours, stars the poster boy for the PS3 and is one of the best cinematic experiences to be found in gaming. With a live action film and a Vita prequel on the way, Naughty Dog's premiere franchise is riding high, and not just in comparison with its fellow PS3 exclusives.
As the sales figures prove, Drake's Deception was the big one for the PS3 this year, the behemoth, the one Sony exclusive to rule them all. There are other great games in this category , but in comparison none have the same presence in the industry, or in the minds of the public, as Uncharted.
Uncharted 3: Drake's Deception makes a point of being a cinematic experience, and on that level it delivers entirely. The presentation is remarkable, and from the barren vistas of the Arabian desert to the speck of dirt on Nate's nose, every pixel of Drake's Deception came together to make the best looking game I have ever seen. Back that up with a fully orchestrated soundtrack and some great cinematography (in a game of all things)and there is simply nothing else on the PS3 to match it. Naughty Dog already had the cinematic experience crown, now they've gone and super-glued it to their head.
The game had more set pieces than one man could possibly hope to survive, yet Nathan Drake managed it, climbing and shooting and quipping his way through flesh eating spiders, a sinking ship, a blazing house fire, the barren desert and, most dangerous of all – a seedy London pub.
New character Charlie Cutter proved a great addition to the Uncharted good guy gallery, whilst Sully and Nate's series supporting relationship was brought into a whole new light. Sure the basic plot was the same as the other games and there were some gameplay quibbles, but for the PlayStation 3 and for 2011, Uncharted 3 Drake's Deception is undoubtedly the winner of best in show.
– Claire Phillips
 •••••••••••••••••••••••••••••••••••••••••••••••••••••••••••••••••••••••••••••••••••
Page 1 Page 2 Page 3 Page 4 Page 5 Page 6 Page 7 Page 8 Page 9 Page 10 Page 11 Page 12 Page 13