That's it. 1 whole year. 12 months, 12 games, and I've done what I set out to do. I've managed to do one game's achievements to 100% completion for the last 12 months. I've played some games that I haven't enjoyed for a little longer than I should, but I've also found some fun games which I leave with a special attachment to in helping me in this task.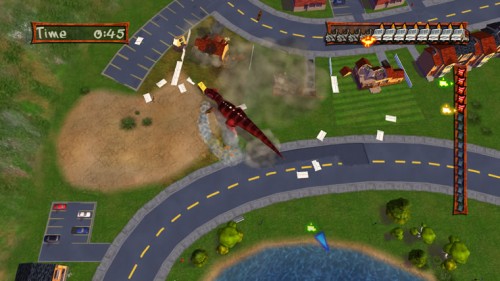 This final month doesn't exactly go out with a bang like it would in an ideal world, but the important thing is it's done: Achievement Unlocked. There were plenty of games released this month in preparation for the frenzy of Christmas sales, so it wasn't that I didn't have enough games to play, just that their achievements were a little out of reach given my time was divided between the lot of them. This month was simply putting into action the escape plan I'd had all along in case of an emergency. This month I got all the achievements for Xbox Live Arcade game Dash of Destruction.
So let's take one final look at the the standings for this year-long task:
December 2010
Harm's Way 200/200
January 2011
Faery: Legends of Avalon 200/200
February 2011
Spare Parts 200/200
March 2011
Fist of the North Star: Ken's Rage 1000/1000
April 2011
Doritos Crash Course 200/200
May 2011
Ghostbusters: Sanctum of Slime 200/200
June 2011
TRON: Evolution 1000/1000
July 2011
Lazy Raiders 200/200
August 2011
Googly Eyes 50/50
September 2011
Truth or Lies 1000/1000
October 2011
Kinect Me 50/50
November 2011
Dash of Destruction 200/200
With that, I'll just say thanks to those of you who commented, and to those of you who followed it silently maybe now's the time to comment to give your opinion on the challenge now it's all over.
I guess I didn't get the support I'd hoped for and you could argue it tailed off a bit at the end there where I started running out of games/lost my drive to do it, but looking at the overview of it I'm proud of what I managed. Plus now it's over it feels like a weight has been lifted for my shoulders, as I won't have to rush to complete something in the days before the month is out.
For the rest of the updates, check out the links below:
Jack's Achievement Challenge: A game a month
Jack's Achievement Challenge: July 2011 Update
Jack's Achievement Challenge: August 2011 Update
Jack's Achievement Challenge: September 2011 Update
Jack's Achievement Challenge: October 2011 Update