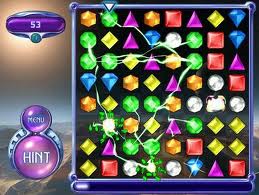 With last weeks announcement that Bejeweled would be getting remade for the iPhone, you would think PopCap would be satisfied with their coverage of the classic puzzler. Poppy never rests though, and today informed the world that Bejeweled is now on Google Chrome. The game has been customized specifically for the highly innovative HTML5 browser, with advanced 3d accelerated graphics and effects, and features two dazzling modes: Classic and Speed.
PopCap released this statement on this brand new way to smash gems:
"Everyone is looking to HTML5 these days because it holds the promise of cross-platform development across all browsers and mobile devices," said Giordano Bruno Contestabile, Bejeweled franchise business director at PopCap Games. "While it's still early in the technology life cycle, we at PopCap are very interested in the potential of HTML5 gaming, and this game is one of the most advanced and impressive HTML5 games yet implemented."

You can download the Chrome version of Bejeweled for free at this link. Go ahead, give yourself a tasty distraction for the holidays. Just expect your production to suffer for the rest of eternity.