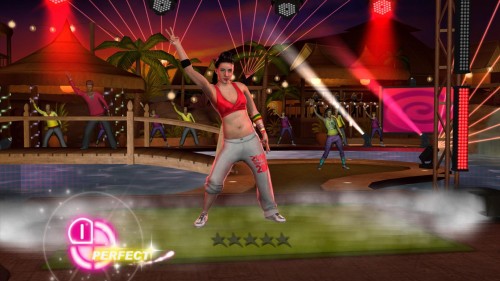 After last year's huge success of Zumba Fitness, Majesco have now released Zumba Fitness 2 for the Nintendo Wii. As many of you know by now, this sequel improves greatly upon it's predecessor by offering up all-new routines, hit music, customization features and 24 dance styles, which is more than any dance game has ever delivered to date.
Majesco have released an official statement, along with a new list of features players can expect to see in the game to celebrate this release:
"We've realized phenomenal success with our Zumba® Fitness franchise and we're proud to answer the overwhelming demand for more by bringing a fun, high-quality interactive experience to market," said Jesse Sutton, CEO of Majesco Entertainment.
Get Lost in the Beat – 32 electrifying new routines and contagious music tracks with international beats that now include hits from today's hot artists: Pitbull, Nicole Scherzinger and Yolanda Be Cool & DCup.
Shake it in Style – From fan favorites like Salsa and Reggaeton to all new styles like Bollywood, Ragga, Latin Pop and Pasodoble, players can learn 24 different dance styles from all over the world. That's more than twice the number in the original best-selling game!
Customize Your Experience – Select your favorite routine in Single Song mode, take a class designed by Beto, Gina Grant or Tanya Beardsley, or craft your own playlist in Full Class mode. You can even take it slow in Learn the Steps tutorial mode before you dive into the choreography.
Join the Party – Invite your friends to join the fun in multiplayer mode that supports up to four players.
Location, Location, Location – Dance it up in five dynamic new environments, from a Miami Yacht to a Los Angeles nightclub.
Superstar Instructors – Dance and interact with top Zumba® instructors Beto, Tanya Beardsley and Gina Grant.
Dance Hands-Free – The exclusive Zumba® Fitness belt is included inside every box so you can holster your Wii Remote™ and naturally move to the music.
Majesco Entertainment has teamed up with 24 Hour Fitness, the nation's largest privately owned U.S. fitness club chain and a health club industry pioneer, to offer fans an exclusive promotion. Every copy of the Zumba Fitness 2 video game includes a free seven-day pass to try a live Zumba class at a 24 Hour Fitness location. In addition, 24 Hour Fitness is also featured within the video game in the dynamic rooftop environment.
You can now find Zumba Fitness 2 wherever videogames are sold at the price of just $39.99. While you ponder on snagging up your copy though, you can check out the brand new launch trailer for the game below.