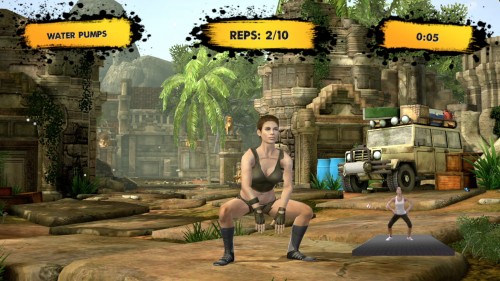 Over the past few years, Jillian Michaels has made quite a name for herself in the videogame market, selling over a million units in her last fitness title. Now the guru is back and ready to get us all back into shape with Jillian Michaels Fitness Adventure for the Xbox 360 Kinect.
Features Include:
Core Exercise Modes:
Fitness Adventure Mode – featuring over 50 predefined circuits filled with freeform-style action (running, climbing and jumping) and plenty of surprises all set in a unique jungle temple environment. Reach for those bonus medallions along the way for extra points.
Fitness Training – Select from ten predefined circuits with 12 exercises each that have been handpicked by Jillian to give you the best results based on your personal goals. Or create and save a custom built circuit by choosing from any of the exercises within the game.
Social Integration: Check out how you stack up against your friends' performance in the online leaderboards. Keep up the great work because Jillian will monitor the boards and honor the best performers on her Facebook page.
Stats and Fitness Calendar: Review your performance on completed workouts and preview or change upcoming scheduled workouts in your training plan. See the number of Adventure Levels, Training Circuits, and Single Exercises completed, calories burned, and how much time you've put into each.
For a fitness title, Fitness Adventure seems pretty jam-packed and breaks apart from the genre by incorporating some nice scenery and an actual objective for players to tackle. You can check out the scenic screens down below as well as a new trailer for the workout game. Are you planning on inviting Jillian into your living room? Let us know what you think in the comments down below.