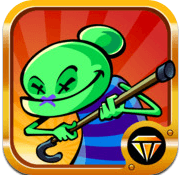 FreshGem and BulkyPix have announced the release of Corpse Granny in the App Store. Corpse Granny is a puzzle game with heaps of challenging puzzles, great graphics and killer animations.
In Corpse Granny you have to use various weapons to eradicate the threat of the zombie granny and her minions. Which is just about as awesome as can be when the game is called Corpse Granny. The arsenal includes a variation of different coloured fireballs, explosive boxes, bombs, giant rocks, cannonballs and even more to take on the undead.
Travel through three different worlds, with 45 different levels, more than a hundred zombies to kill, and collecting all the gems and searching for that high score while wading through hordes of zombies. Set a whole bunch of weapons to work and watch the results in motion.
There's also a level editor so you can create your own levels and share them with others, creating backgrounds, placing zombies, stairs, ropes, fireballs and dozens of other objects.
Corpse Granny is on iPhone for 99c – Available Here
Or iPad for $1.99 – Available Here