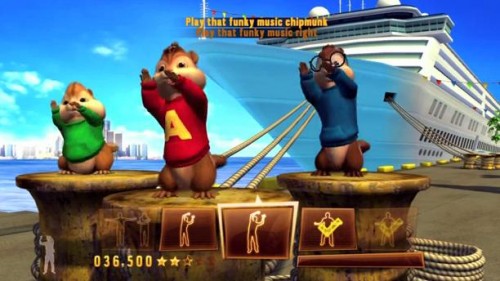 It's crazy to think that Alvin, Simon, and Theodore are now over 50 years old, but there is no doubt that the trio have earned their place in pop culture history. The latest movie, Alvin and the Chipmunks: Chipwrecked hits theaters December 16th and while many fans of all ages are sure to check out that flick, the video game bearing the same name has now released for the Xbox 360 Kinect, Nintendo Wii, and Nintendo DS as of today.
This title works about like you would expect, and is a complete motion-dance experience. Players can pick their favorite Chipmunk (or Chipette) and rack up points while they dance along to "chipmunk'd" versions of classic songs.
So what tracks are in the game? Here is a full list of the 30 included:

All Day and All of the Night
All Star
Beat It
Bring It On
California Dreamin'
Crocodile Rock
Hit Me With Your Best Shot
I Fought The Law
It's Tricky
Just Like Heaven
Karma Chameleon
Kids In America
La Bamba
Life Is A Highway
Love Shack (w/ The Chipettes)
Oh Pretty Woman
Only Want to Be With You
Play That Funky Music Chipmunk
Shake Your Groove Thing
Stayin' Alive
Surfin' Safari
The Chipmunk Song
Turn the Beat Around (w/ The Chipettes)
Video Killed the Radio Star
Walkin' On The Sun
We're the Chipmunks (Deetown Remix)
Whip It
Witch Doctor
You Really Got Me
You Spin Me 'Round
Even though I'm still partial to the 2D cartoon versions of the chipmunks that I grew up with, there is no doubt that this title certainly will be a hot ticket item on Christmas lists for the younger crowd. Anyone who also are looking forward to the new movie but do not want to wait until the December release date now have a nice sneak preview of what to expect with this new dancing romp. Check out the launch trailer below and you can find Alvin & The Chipmunks: Chipwrecked in stores everywhere as of today.