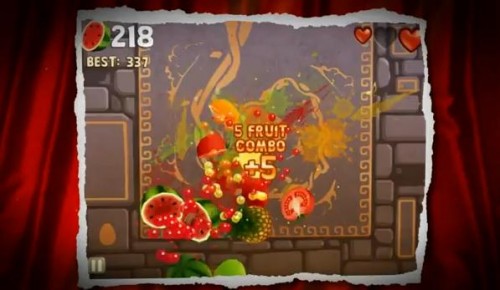 Fruit Ninja is without a doubt one of the most addicting experiences you can find on the iOS (and more recently the Xbox 360 with Kinect). So what happens when you get Dreamworks involved with the hit slicing title? Fruit Ninja: Puss in Boots. Yes, you heard that right. Halfbrick are preparing to release a new version of Fruit Ninja with the famous feline that is also about to star in his own film on October 28th.
This new version also includes a "Bandito" mode where players can slice their way through several challenges as well as the much requested addition of the Tomato. The "desperado" mode features a more classic feel of the original with fruit, unique waves and Puss in Boots' elusive Magic Beans.
I know this is a movie tie-in and we usually know how those perform, but this one just looks like a perfect fit as Puss in Boots is known for his ferocious swordwork, which should blend perfectly with that classic fruit chopping gameplay. A new trailer was released today to show off this spin-off, which you can check out below. Fruit Ninja: Puss in Boots releases October 20th on the Apple Marketplace.