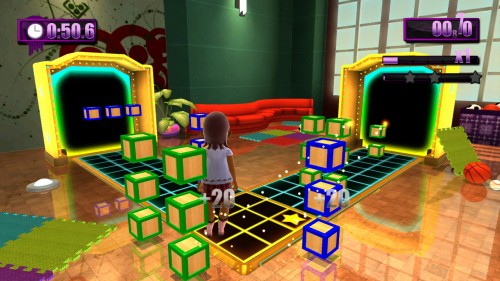 Majesco has just released their newest Kinect game. Titled Motion Explosion, this game has one goal: getting you off the couch. Yay! Featuring 12 mini games (each with 10 levels) Motion Explosion has a variety of gameplay types for the entire family. Other features of Motion Explosion include:
-Using your hands, legs, elbows, knees, feet, and even your head, to play 12 different games that will challenge your reflexes, timing and coordination.
-Swat, dodge, jump, duck, kick, lean, juggle, pump, steer, crank, toss, balance – use your body to earn high scores and unlock new games.
-Gameplay ranges from simple to incredibly tricky with alternative control schemes, camera perspectives, multiple objects, faster pace and more, all designed to get you out of your comfort zone and challenge your coordination and reflexes.
-Inviting friends and family to the ultimate Motion Explosion party right in your living room with turn-based competitive gameplay (supports 2-4 players).
-Tracking your stats across each game and watch as all your skills improve with practice.