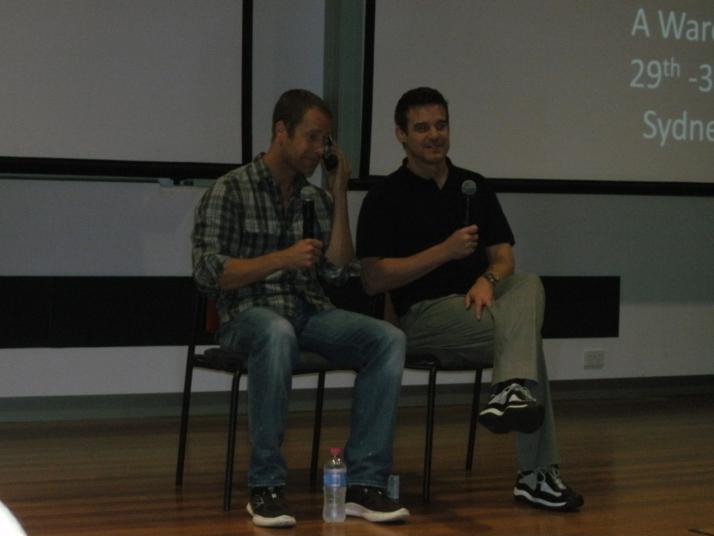 The date is Saturday the 29th of October and we (Jess and Myself) are in attendance of a convention hosted by The Hub Productions called A Warehouse in Eureka. The event involved a few things and they were all centered around the guests that had been invited to attend.
The first event of the day was a Question and Answer session hosted by Eddie McClintock. The Q&A was incredibly fun as Eddie chose to answer questions more personally by roaming around the auditorium and meeting each audience member. Everyone had an amazingly good time as all of his answers were incredibly entertaining; especially the where he talked about one of his first on screen appearances.
In his first on screen appearance, he was apparently a dancer appearing in a soap opera, only he couldn't dance and was urged into the role by his manager (if I remember correctly). He stood out against the dancers as he couldn't dance (and didn't look like a dancer) and his career went from there.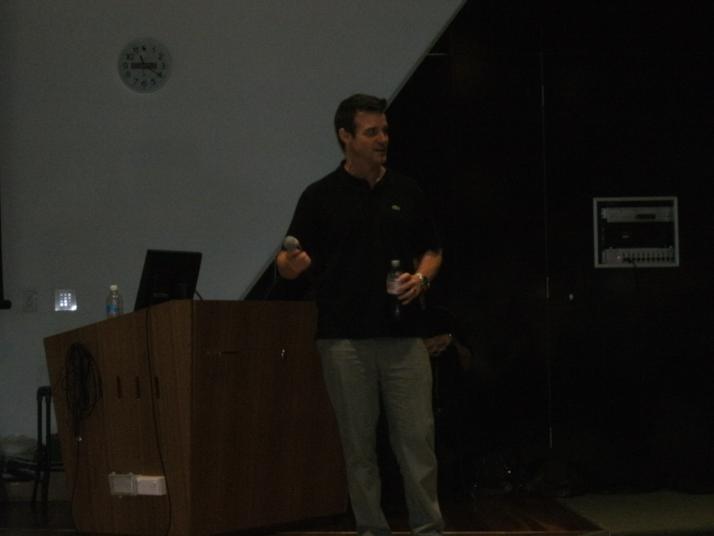 Throughout the day and between events, the staff had arranged for audience members to watch episodes of Eureka and Warehouse 13; as well play various kinds of games, such as celebrity heads for prizes. The prizes were all warehouse 13 and Eureka related in some way.
On the whole, the event was very contained, it didn't stretch too much further from the auditorium that we were seated in; but it didn't really need to. It also had a fairly small attendance rate, not many more than 100 people were there, so it felt a lot more comfortable and intimate with the guests.
The next guest was Colin Ferguson, who was insanely funny, and he also did a Q&A. The session took place immediately after lunch, so this had left people a little unsettled when it came to question time. And by unsettled, I mean that the audience was a little inactive in the question asking. It was okay though as Colin quickly took control over the session and utlilised his skills in stand-up comedy to engage with the audience.
One of the most fun things of this panel was when Colin pulled out his iPhone and began Skyping his co-workers. He almost revealed their phone numbers by accident on occasion, which was even more amusing. The audience requested the cast member to be called and Colin obliged. Of all the cast requested, we managed to speak to Fargo (Neil Greyston) who revealed that he was currently on set and working on a new movie, which sounded really fun. Sadly, we couldn't get ahold of anyone else during this period, but we did sing happy birthday into the answering machine of one of the cast members.
After the attempted prank calls, the audience was much more settled and had plenty of questions to ask. Of all the questions, the most entertaining answers had to do with the stunts and jeeps on the set. Hearing stories about how Colin got burned (on the arm and again on the face) and how the stunt-men got injured made everyone cackle; as did the stories on how the jeeps were horrible to drive (and how the best looking jeep on the outside was the worst looking on the inside).
After an entertaining chat with Colin, Eddie had returned and it was time for a joint Q&A. The joint Q&A was pretty short though, but it was incredibly entertaining and the audience asked a few good questions. The best part about having the pair on stage was when it was time to get them to draw on their shirts to sell in an auction.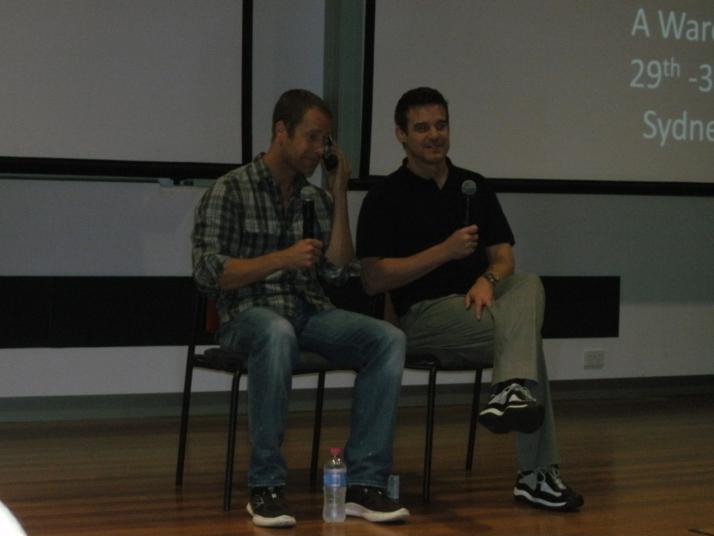 Eddie began work quickly on drawing a face on his, while Colin took a little while longer to work out what he was going to draw on himself. Eventually he settled on drawing and outline of the colon along the section of the body that it would have resided within. This colon would eventually turn into an outline of a mouth later, but it's still a pretty interesting thing to have done on the offset.
After drawing on themselves, and each other, it was time to auction those shirts. And auctioned they were. Both shirts were sold for a combined total of over $400, and each winner had the shirts hand recieved to them by the guests. I had the pleasure of seeing Colin (who also had a higher amount bid on his shirt) strip down for the girl a row ahead of me. I should point out that I'm a straight guy, but man Colin was built like a tank under that shirt, if I was a chick I'd have been blushing hard. Eddie was also built, but he was nowhere near as attractive as Colin. I need to work out harder.
A short while after the auction, the guests had to leave the auditorium to prepare for autograph signings and the audience was included in another auction. This one had participants bidding against each other for rarer signed photos and other memorabilia from the cast and some items available only at comic-con in the US. Each item was heavily sought after by a few members in the audience and each winner paid a pretty hefty sum to win. So congrats to everyone that won something.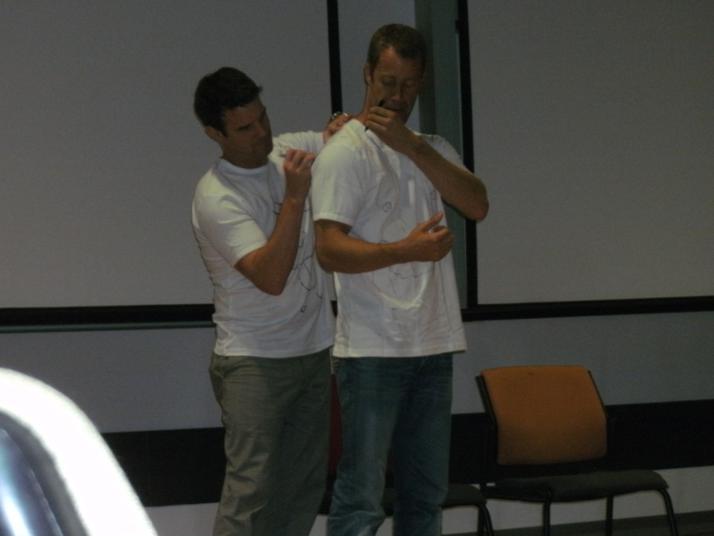 Unfortunately, Jess and Myself were unable to attend the autographs signings and closing due to other commitments, but we are incredibly sure that they would have been incredibly gratifying for everyone who was able to get an autograph (considering that I, myself, have waited in line for a signing in other conventions; so I know the feel).
Overall the event was an incredibly fun ordeal and the smaller attendance rate/ smaller venue made it feel that much more better. I'd recommend that any interested in pop-culture related events check out the Hub Productions and attend any future events that they may be interested in.
I would also like to mention that Warehouse 13 and Eureka currently run on air over here in Australia on both Foxtel and free to air TV (Channel 10). So be sure to watch those shows, as they're incredibly entertaining.