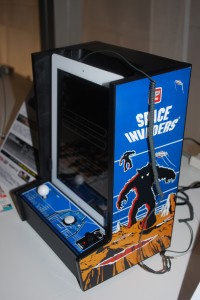 I'd consider myself to be a bit of a mobile gamer. Owning an iPhone and iPad (it's semi mobile, right?) I've become rather accustomed to a lack of tactile controls, which I must say can be a little sad. At this years Tokyo Game Show, there was a wide variety of mobile games, many of which are very much the same as games I'd played before. Rather than delve into a bunch of hands on for various titles that offered nothing particularly innovative in terms of controls, I'd rather share my unique mobile gaming experiences. Experiences made unique by the use of mobile peripherals.
I have always had a soft spot for retro space shooters ala Galaga and Space Invaders. That's exactly what I found at Tokyo Game Show. There was a few Space Invader games on mobile devices, but the one worth mentioning is an iPad version that was housed in a small arcade cabinet. While the joystick might have been a little small, the idea of having my own little arcade in my own home seems really appealing to me. The game played the same as it would without the aid of peripherals, but it did add a little something special to the game. I was so taken by this I looked through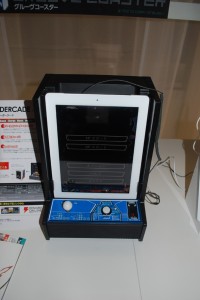 out the streets of Akihabara for the next week looking for iPad joysticks. I was successful in the end, but it's not the same as playing on a tiny little cabinet. Just check out those side graphics, a feature lacking very much from downloadable games – the ever important first contact between player and game – the boxart or side cabinet art.
I must add, I actually spotted this peripheral in a toy store on my very last day in Tokyo, and I lament not purchasing it. Sadly I had no room in my luggage at all. But I'll always have my memories of playing it at Tokyo Game Show. At least until dementia sets in. The peripheral is known as the AppBlaster, and as you can probably tell by the photos, is a plastic gun that uses the iPhone as a gun sight. The gun itself is made by AppLism, while the game I played, Ghost Catcher, is made by Hangame. This game has you firing energy at ghosts in order to catch them. While I am pretty familiar with augmented reality titles like this, I have never experienced them using a peripheral before and really enjoyed the extra projection of narrative the device added to the game experience as a whole. The game itself was graphically interesting, and simple to play, but what really made the whole experience was the ability to connect the gun to game and take fire.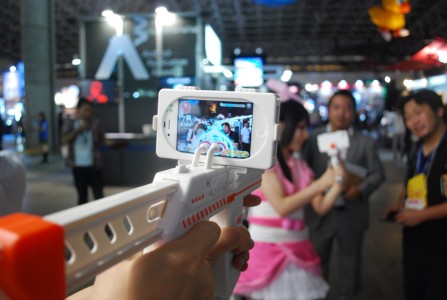 I for one am a fan of including play outside of the confines of the mobile screen, and wouldn't mind playing more games that involve such peripherals. For more iPhone add ones visit the AppLism site and for a little more information about iPad arcade cabinets check out our article about the Nerdy Niche: Think Geek.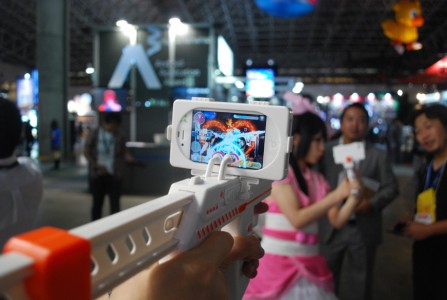 Click here for our full coverage of Tokyo Game Show 2011
Related Content
Dedicated Handhelds Will Not Die!
Aug 18, 2011
The Games Future is in Your Palm
Aug 26, 2011
Nerdy Niches – ThinkGeek
Jul 3, 2011
More TAITO INVADERCADE Pics