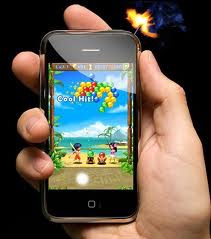 On the afternoon of September 15, a Business Day during TGS, the Asia Game Business Summit will be held. What is the Asia Business Games Summit you say?
Only in its second year, five top executives of game companies from China, South Korea, Taiwan and Japan hold a discussion panel. The theme this year is: "The Main Battlefield of Digital Entertainment: Users' Palms!" You know what this means, they'll be talking about new portable game devices, smartphones, tablets and e-book readers. Focusing on the outlook for each company as well as trends in different countries and regions, comparing the industry today and all things in the future.
TGS last year had a focus area on the topic of mobile gaming, and rightly so, as it's probably one of the fastest growing segments of the industry. In the last year alone, smartphone gaming as a lucrative business has taken off in various markets. One of those areas is Social Gaming, not something that I exactly agree with, but nevertheless find interesting because of it's future. Reports last year were saying that Mobile Gaming will nearly double it profits from the period between 2009 – 2015, and that's probably a modest projection. I hope to be there to find out what they have to say, I don't speak Japanese, but that's what translators are for.
The panelists of the Asia Game Business Summit are:
[China] Mr. Chien Tunghai, Vice President, Shanda Games Limited
[South Korea] Mr. Rim Chong Kyoon (Albert Rim), Vice President, NEXON MOBILE Corporation
[Taiwan] Mr. Aaron Hsu, Chairman, XPEC Entertainment Inc.
[Japan] Mr. Haruhiro Tsujimoto, President & COO, CAPCOM CO., LTD.