With FIFA 12 getting released via EA Sports' Season Ticket in Europe tomorrow for Xbox 360 subscribers, we have some information for all of you before the critics start digging into the game.
One big announcement if you click on the link you can actually head over to the Creation Centre right now and start experimenting.
Fresh from EA Sports, we have some reassuring news. Most of us have probably seen the numerous videos which have surfaced on YouTube and other sites showcasing the biggest glitches and flops of the Player Impact Engine for the FIFA 12 demo. If you had any doubts, EA Sports have eased our minds, stating that these problems were known by the staff and have been fixed. The demo of course is handled by the Microsoft and Sony teams and the build is over a month behind the final copy. So not only will teams be updated but apparently we will not see players floating magically after a tackle.
We also got some confirmed ratings of the best player for each position on the ground (two of which we knew already):
Goalkeeper: Real Madrid's Iker Casillas (89)
Defender: Manchester United's Nemanja Vidic (89)
Midfielder: Barcelona's Xavi (92)
Forwards: None other than Mr. Lionel Messi (94), highest overall in the game.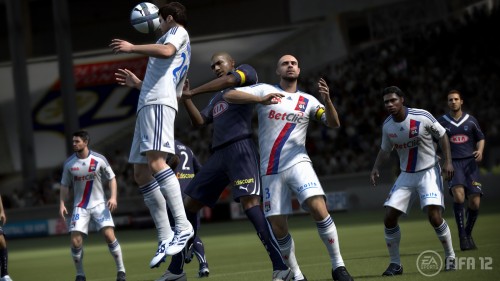 With FIFA 12 coming out oh so soon, some of the real-life superstars, Jack Wilshere and Wayne Rooney, have got their hands on a copy of FIFA 12 already and are tweeting rave reviews about the game so far.
Jack Wilshere:
"#FIFA12 has not been turned off yet haha I am getting good! Arsenal are deeecent! Arteta is my top goal scorer! #gooner4life"
Wayne Rooney:
"Played #FIFA12 last night. Brilliant. Defending is completely different and takes time to master. More realistic and better FIFA12"
For some more extensive details on player ratings and the creation centre, go download the EA Sports FIFA 12 podcast off iTunes. Don't forget to keep an eye out for our review of FIFA 12 next week!