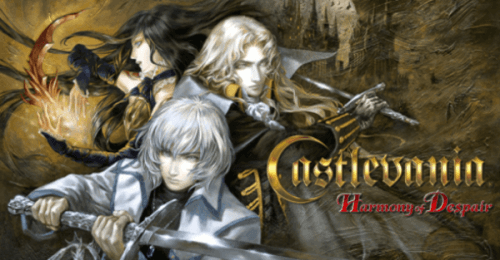 Castlevania makes a return with Castlevania: Harmony of Despair, out now on the Playstation Network. The game is the brainchild of the legendary producer, Koji Igarashi, who includes several Castlevania titles, including Symphony of the Night, on his impressive resume. Players will control several famed characters from the series with six player multiplayer available. Konami also announced that the PSN release will include the 'Beauty, Desire, Situation Dire' Map pack, which includes the Pyramid of Ruin level, as well as additional characters Julius Belmont and Yoko Belnades.
Here is what Konami had to say about the release:
Castlevania Harmony of Despair features the classic renowned fast paced, 2D side-scrolling action the series is known for, as vampire hunters from throughout the series come together to return Dracula to his eternal slumber. Joining forces with friends, up to 6 players can explore massive levels inspired by the worlds of Castlevania Dawn of Sorrow, Portrait of Ruin and Order of Ecclesia via online co-op play.

With a combo attack system that allows players to unleash devastating attacks and fight the forces of darkness, Castlevania Harmony of Despair also enables gamers to discover hidden locations, special items, and equipment to help in their quest. Fearless players can also engage in competitive Survival Mode with friends, while the best players on the leaderboard can upload replay data and share their information. Featuring detailed 2D art and follow-up downloadable content for new characters and levels, Castlevania Harmony of Despair unleashes an unforgettable Castlevania experience for PlayStation fans.