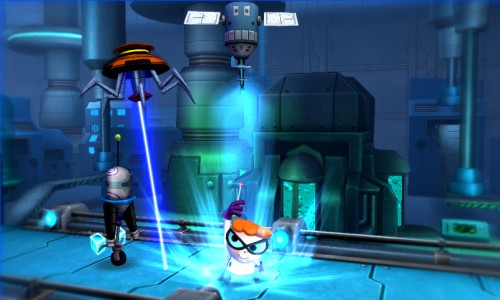 Deep Silver and developer Papaya Studio detailed further information about their upcoming game, Cartoon Network Punch Time Explosion, for Nintendo 3DS. It brings together characters from nine Cartoon Network worlds, bunching together the forces of good, led by boy genius Dexter, against the evil alliances formed in light of their universes colliding and merging.
Features:
· Featuring over 40 characters, 18 of them being playable characters, representing eleven popular Cartoon Network IPs

· Original story that combines popular locations and events: players face all oftheir favourite villains and heroes from across the Cartoon Network universe

· Features 32 stages in multi-layered environments showing iconic locations from nine Cartoon Network universes with all the background flavour and supporting characters

· Various gameplay modes:
– Single Player Story Mode contains an original story written by a Cartoon Network writer and allows players to experience a variety of gameplay styles while travelling through the Cartoon Network universes
– Battle Mode (Multiplayer): 4-player competitions over Wi-Fi, players can battle their friends in any of 21 arenas
– Battle Mode (vs CPU): Players can go it alone in a rumble against 1-3 of their favourite characters

· A wealth of different gameplay elements:
– Special "Assist pickups" summon characters to help the player during battle
– "Super Attacks", triggering over-the-top cutscenes and attacks
– Alternate outfits and player colours per character
– Three levels of difficulty
– Unlock special bonus & hidden characters
– Nintendo 3DS download play: play with up to 3 friends using one single game-card
– Players can customise the rules for battle arenas: adjust game timers, amount of lives per character and how often pickups are spawned
– Replay levels with newly unlocked heroes
If it goes right, it could be a love letter to fans of the old Cartoon Network programmes, featuring beloved characters from classic cartoons like the Powerpuff Girls, Samurai Jack and Dexter alongside recent entries like Ben 10. If it goes wrong, it could tarnish our perception of the characters (except Ben 10, who has appeared in enough crummy games for people to stop caring), and it'll be punch-time for the California-based developers.
Cartoon Network Punch Time Explosion is scheduled for European release on Nintendo 3DS on 18th November.