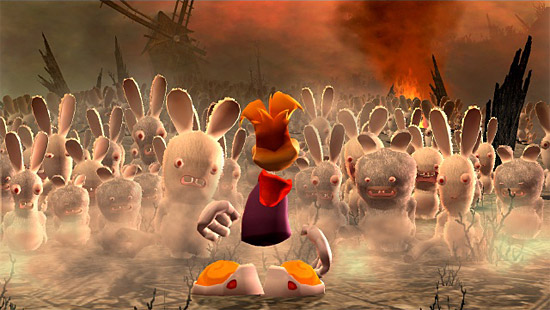 Although the rabbids have been hanging around consoles for a while now, it's been quite a while since Rayman himself got a taste of the limelight, so it's great to see Ubisoft giving both the crazy rabbit things and the limbless wonder a shot at the action with Raving Rabbids: Alive & Kicking and Rayman Origins. Raving Rabbids will be an Xb0x 360 Kinect title, whilst Rayman himself will appear across all platforms bar the PC.
Raving Rabbids: Alive & Kicking is the next instalment in the party game series, and the first to  have been developed solely for the Kinect on Xbox 360. As you would expect from the freaky little dudes the trailer promises plenty of mad mini games with the added bonus of the Kinects full body motion control to make players look extra silly.
Warning: one of the trailers below includes hairy men moshing, air licking, and a strangely empty room…
With the Rabbids safely out of the way on Kinect, Rayman once more gets to be the star of his own franchise, this time in an origin story set before even the very first Rayman game. It's all set to be a return to the originals style, with sidescrolling platforming in a gorgeous 2D world. The Rayman games have always had a goofy sense of humour, so it's great to see that it's still very much alive in the trailer for Rayman Origins, which although featuring no moshing, does have an old lady beheading her husband.
Rabbids
[pro-player width='530′ height='253′ type='video']http://www.youtube.com/watch?v=zgpq0ySKcac&feature=youtu.be[/pro-player]
Rayman
[pro-player width='530′ height='253′ type='video']http://www.youtube.com/watch?v=AfXSHC67zso&feature=youtu.be[/pro-player]