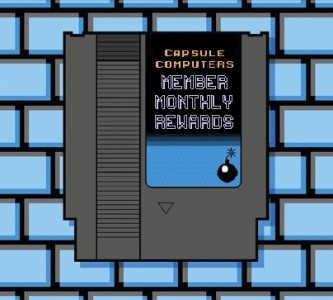 Capsule Computers are proud to announce a NEW reward system for its members, where everybody has an equal chance of winning free video games and other awesome prizes!
WHAT YOU CAN WIN:
We've got X-Box 360, PlayStation 3, Wii, P.C., iPhone, X-Box Live Arcade and PlayStation Network games up from grabs, as well Amazon Vouchers and other cool stuff in our lucky dip of awesome prizes!
HOW YOU CAN WIN:
Winning is as easy as just visiting the site! Simply by registering as a member of Capsule Computers, your in the running for a chance to WIN! All you got to do is sign up here and comment on at least five different articles and reviews within a month. How easy is that? All you got to do is say what you think!
HINTS AND TIPS:
We'll be keeping our eye out for the most interesting or insightful posts, and who is the most active. So commenting a lot will help, but whatever you do-DON'T SPAM! Also posting insightful comments such as your opinions on upcoming games and feedback on news and reviews will also catch our attention. It's not just here either: by sharing our articles on Facebook, retweeting us on Twitter, reviewing our Podcast on iTunes and subscribing and commenting on our Youtube channel will also help catch our attention. No matter where you are, we'll find you!
HOW WILL I KNOW IF I'VE WON?
ON the 15th of each month as of September 2011, we will announce the winner on the front page of the site, and a prize will go out to the member who's caught our attention that month. We will also contact you via email, where you'll have 10 working days to reply to claim your prize. So don't forget!
HOW ELSE CAN I WIN FREE STUFF?
Simply by commenting, not only do you have a chance of winning a Monthly Member reward, but you also get Cube Points as well, which you can redeem for a whole bunch of other cool stuff such as video games! You can learn more about earning Cube Points here, and see all the epic stuff you can get here!
Good luck to everyone! Get commenting and talking about your favorite video games and anime, and don't forget: Play hard or don't play at all!
CLICK HERE TO REGISTER AS A MEMBER OF CAPSULE COMPUTERS!
Terms and Conditions:
Must use a valid email address
Please avoid swearing and offensive statements and content
If you've won a prize, you must claim it within 10 working days by emailing info@capsulecomputers.com.au
Must post at least 5 comments a month that are valid. (It's got to be more than just 'cool', make it interesting!)
You acknowledge Capsule Computers has every right to decide the winner, and the decision is final.
You give permission to Capsule Computers to mention your user name publically to announce you've won and if we so choose, the prize you receive.