September already has a great lineup of Madman DVDs (you can check them out here), and now they're is adding to it: here's a few of the SBS shows that will be coming to DVD and Blu-ray in September.
Sex: An Unnatural History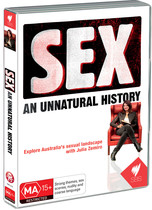 It has been five decades since the release of the contraceptive pill in Australia. Could the scientists who created it ever know of the sexual revolution it would create? We like to believe we are more sexually liberated than our parents or grandparents, but are we really? What is it that makes us tick and how has our sexual behavior changed since the 1960s?
Starting with a look into why we started having sex and how we became hardwired to monogamy, and moving through to the subject of taboos and where we go from here – from top to tail – presenter Julia Zemiro explores these and more questions encompassing the last fifty years of our sexual landscape in this witty, frank and factual six-part series.
Release date: 31st August 2011
Go Back to Where You Came From
Following its phenomenally successful screenings on SBS in June, GO BACK TO WHERE YOU CAME FROM will be available on DVD August 31st, 2011. Igniting the Twitter universe upon its broadcast on SBS in June, GO BACK TO WHERE YOU CAME FROM is one of the most controversial series ever made in Australia, and a must-see program for all, no matter what your political bent.
Choosing six Australians with deeply differing views on refugees and asylum-seekers, GO BACK TO WHERE YOU CAME FROM takes them on a very real refugee journey, in which the participants agree to challenge their preconceived notions by living with and as refugees for one month. To do so, they will trace, in reverse, the journeys that real refugees took to reach Australia. Along the route there will be debates, arguments and changes of their opinions, but not one will be untouched by the experience.
Release date: 31st August 2011
Seduction and the City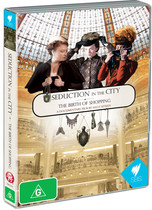 In 1852, French entrepreneur, Aristide Boucicaut, created the world's first department store, Le Bon Marché. His genius idea was to target the new middle class woman and attract them into a fantasy world which could be enjoyed without a chaperon, and where all types of goods are available to purchase. The concept is so successful that it is very quickly copied all over the world. Soon there is Selfridges in London, Myer's in Melbourne and Macy's in New York – all of which invent ever more enticing ideas to attract customers and sell industrial goods in huge numbers.
Through expert interviews, beautiful photography and extraordinary diary excerpts, SEDUCTION IN THE CITY tells the story of the department store, and the social history of the phenomenon of shopping which took hold of the world and transformed the lives of women, national economies and societies forever.
Release date: 31st August 2011