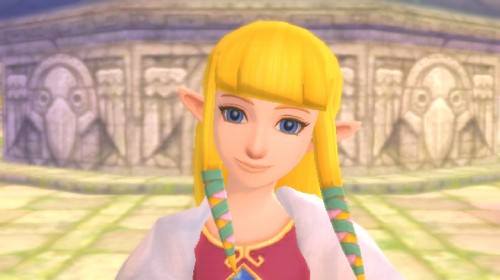 Those attending ComicCon later this week have a reason to stop by Nintendo's booth as they will be bringing quite a few Wii, DS, and 3DS titles to the event. Today all of the planned festivities were announced, and by the looks of it, the centerpiece of Nintendo's showing will be the highly anticipated Legend of Zelda: Skyward Sword, which will for the first time be playable by attendees.
Other titles that will be playable include:
3DS:
Super Mario
Mario Kart
Kid Icarus: Uprising
Star Fox 64 3D
The Legend of Zelda™: Ocarina of Time™ 3D
Pokédex 3D
METAL GEAR SOLID Snake Eater 3D from Konami
Shinobi from SEGA
Super Street Fighter IV 3D Edition from CAPCOM
RESIDENT EVIL: THE MERCENARIES 3D from CAPCOM
DEAD OR ALIVE Dimensions from TECMO KOEI
Wii:
The Legend of Zelda: Skyward Sword
Kirby Wii
Rhythm Heaven
Fortune Street
Captain America: Super Soldier from SEGA
Just Dance 3 from Ubisoft
Nintendo DS:
Dragon Quest Monsters: Joker 2
It doesn't end with playable titles though! Nintendo also are out to continue Zelda's 25th Anniversary with a large chalk drawing on display for Skyward Sword, created by an artist that was commissioned by Nintendo just for this event. This piece will be detailed as the event is happening so visitors can check in on the progress throughout, watching a masterpiece unfold over time.
Pokémon fans will also be pleased to know that there will be plenty for them as well, as a special meet-up will take place from 4-6 p.m. on July 21st where Pokemon Black & White owners can do battle and trade. Also on hand will be a a giant AR marker of the legendary Poke, Reshiram. Pokémon fans also will be able to get in on giveaways, including a set of three Pokémon AR marker cards, pins, Pokémon cinch sacks and Pokédex 3D T-shirts, all of which will be limited so those who want the freebies should pay a visit to the Nintendo Lounge early on.
Visitors to the Nintendo Gaming Lounge can also take advantage of other fun activities and daily giveaways (while supplies last) such as collectible Kid Icarus: Uprising AR Cards, posing for 3D photos in an oversized AR Card gallery, sharing StreetPass data with other Nintendo 3DS users and downloadable treasure maps for Dragon Quest IX: Sentinels of the Starry Skies.
Nintendo seem to be ready to pull out all the stops at ComicCon this year (Playable Skyward Sword!). It is interesting to see the Wii-U absent from the equation, but even at that, there is no doubt Nintendo's booth is sure to be a popular one.
Nintendo Gaming Lounge for Comic-Con attendees will be located in the San Diego Ballroom at the Marriott Marquis & Marina at 333 W. Harbor Drive, adjacent to the San Diego Convention Center (booth #5135)