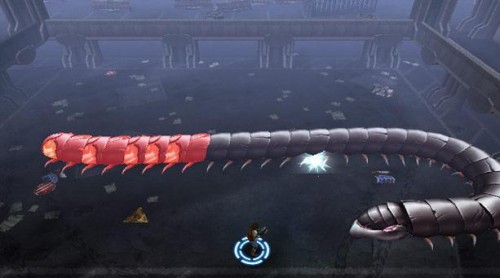 Not too long ago, Atari & WayForward announced a reboot of the classic game Centipede under the name of Centipede Infestation. Today, it was announced that this run-n-gun reboot is now available for pre-order for both the Nintendo 3DS & Wii at Gamestop, and according to the dates listed at the retailer's official website, Centipede Infestation is set to launch on November 1st for both platforms.
Ever since being announced, I have drooled over the concept WayForward and Atari put together for this reboot, as it looks to be pulled straight out of an arcade with a shiny new coat of paint. Centipede Infestation has also received a price for both platforms, making the reboot $39.99 for the Nintendo 3DS and $29.99 for the Nintendo Wii.
If you still have not viewed the trailer as of yet, you can do so by visiting the official website for Centipede Infestation by clicking HERE.
Those who want to continue to follow further updates can continue to check back, as we will continue our coverage as more news releases. Don't forget to also follow the Centipede Facebook page and show some love to Atari.
Related Articles:
Atari Reving Centipede on the Wii & 3DS with "Centipede Invasion"