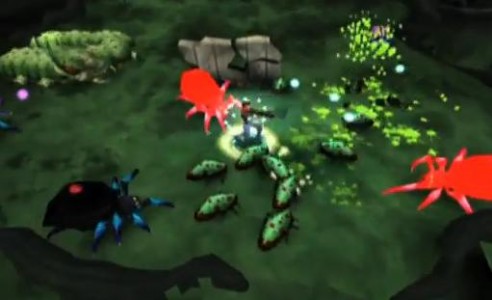 After just pulling off a wonderful reboot with Yars' Revenge, Atari is now out to revive another classic from their archives with Centipede Invasion. This 1980 release is now preparing to see new life with a release on both the Nintendo Wii as well as the 3DS. Now if you haven't played Centipede before, it worked a bit like a shoot-em-up, in which the player had to destroy off every section of the arthropod and prevent it from reaching the ground. In true style, this new title will completely change what we know about the classic version with a brand new story as well as a whole new way to play the game itself.
Developed by Wayforward, this new version puts the player in a setting taking place twelve years after a nuclear war. Taking the role of an orphaned teenager hero named Max, you must now fight off mutated insects and killer centipedes as you trudge through the wasteland with an ally by the name of Maisy and try to grow new life into the rubble by planting seeds which will restore Earth's resources once and for all.
Atari have also opened up today and elaborated a bit more on the way this re-imagining will actually play out:
Players will be swarmed by mutated spiders, beetles, grubs, caterpillars, moths, and boss insects across the game's expansive world of seven environments and 40 stages. To defeat these mutant species and restore mankind, players will have to use an array of weaponry –Lightning Orb Gun, Nuke Cannon, Freezethrower, Mine Launcher, and more – as well as power-ups to fight through the invasions.
Like the toadstool of the original Centipede game, each insect has a unique defensive object that it can leave behind, as a 'special' variation.. These defensive objects are short-lived combat tools that distract, attack, or block insect assaults during battle.
Additionally, the game allows players to team up with friends to fight off even more bugs with 2 player co-op multiplayer features. Nintendo 3DS players will be able to take advantage of unique StreetPass™ features that enable them to uniquely share content between passingNintendo 3DS users. Centipede: Infestation for Nintendo 3DS will also feature gooey 3D visuals and ad-hoc multiplayer for 2 player co-op.
I have said it time and time again, but Wayforward really have a knack for creating retro-like experiences on current consoles, with the new trailer released today for Centipede Invasion, it looks like this one will go straight to the roots of the shoot-em-up genre and offer a nice, nostalgic arcade feel to the whole control scheme. Centipede Invasion drops for the Nintendo Wii & 3DS this fall and you can check out the brand new trailer for the game below.