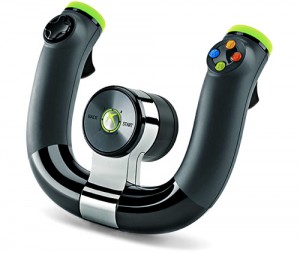 A few years ago now, Microsoft released their official Steering wheel controller around the time of the release of Forza Motorsport 2. Now Major Nelson, on behald of Microsoft for E3, has revealed this latest peripheral for this wireless day and age: the Xbox 360 Wireless Speed Wheel.
Launching in early October, the Wireless Speed Wheel is totally wireless and controls naturally as you would expect with precise steering, standard controller buttons/triggers, and haptic feedback with rumble. The triggers act as the accelerator/brake, eliminating the need for pedals, which in some respects is a shame as I won't give that entirely authentic feel, but doing so removes the excess wires/wireless connections needed for a separate pedals device.
The Wireless Speed Wheel is compatible with all racing games that feature steering wheel support and will go on sale for (US)$59.99 later this year.