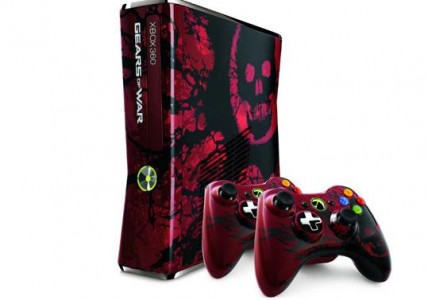 I'm a bit surprised this announcement wasn't mentioned during the Microsoft conference yesterday, but either way  Major Nelson's blog just confirmed a limited edition Gears of War themed Xbox 360 console and controllers set to launch aside the September 20th release of Gears of War 3.
As you see in the picture above, the console is stunning visually. The console and controllers won't be the only goodies locked away in this $399.99 box though as a download token for bonus game content will be included that features the Infected Omen Weapon Pack and the Adam Fenix character for use in multiplayer. As stated, "The Infected Omen Weapon Pack gives fan the infected omen skin for use on the five starting weapons". A 320GB Hard drive will also be included inside the unit along with the standard retail.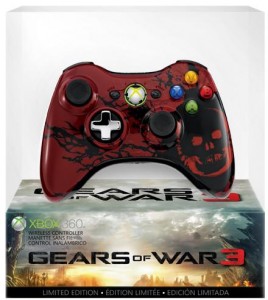 Much like the Halo Reach console from last year, the Gears of War 3 designed system will feature start-up and shutdown sounds from the GOW universe. If you are interested, I would advise locking in a pre-order at a participating retailer as this red and black beauty is as advertised, a "limited" release.