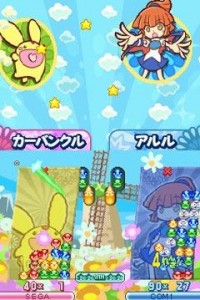 While Sonic is celebrating his birthday this year, Sega are still very aware that their beloved puzzle franchise, PuyoPuyo is also turning the big 2-0 and are planning the celebrate with a new game on the Nintendo DS. I had my first taste of the puzzle title well over 15 years ago when I played Kirby's Avalanche (and later Dr. Robotnik's Mean Bean Machine and the Gamecube, GBA & DS Puyo releases) and I have always loved the chain-making madness that is the PuyoPuyo engine, so news of a new title has me a bit excited at the moment.
It is a little surprising considering on how many consoles we have seen the franchise on that the Nintendo DS was the unit of choice for Sega, but since we haven't seen much from the series in a few years I am sure fans like myself will be just happy to see a new version released period. Siliconera are reporting that the 20th Anniversary of the game will feature both old and new versions of the game, such as PuyoPuyo Sun and Fever as well as a Nintendo Wi-Fi mode.
The release date for PuyoPuyo! 20th Anniversary is set in Japan for July 14th with both standard and "anniversary box" editions. In Japan PuyoPuyo is a much larger property than it is in the rest of the world, but hopefully we will receive word if this latest Puyo title will release on a global scale from Sega soon enough.