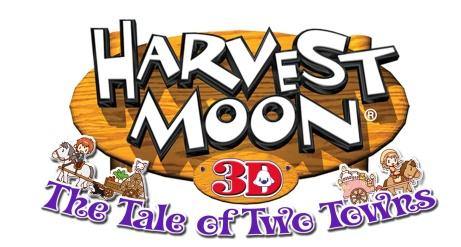 For all you you aspiring farmers out there, Natsume have now announced a brand new Harvest Moon game that is headed to the Nintendo DS as well as the 3DS. Harvest Moon: The Tale of Two Towns will put players in the role of a new farmer who is new to the area and must choose between one of two villages to set up shelter in whether it be the eastern-styled Konohana, which has an abundant supply of crops or animal-loving, European-styled Bluebell. Both towns are now bitter rivals after a dispute of who the had the best cooking caused them to grow apart.
Natsume President & CEO had this to say about this new Harvest Moon tale:

"We're extremely excited to be bringing The Tale of Two Towns to these two great platforms," said Hiro Maekawa, President and CEO at Natsume.
"We wanted to ensure that all of our loyal Harvest Moon fans would have a chance to play this game. No matter which version they pick up, they're sure to love the great new cast of characters, the fun festivals, and the exciting new gameplay mechanics."
You know, I really respect the fact that they kept both platforms in mind with this release as there are still many fans who I'm sure haven't had a chance to pick up a 3DS yet. I am also now curious of just what kind of features we might see in the 3DS version though as Harvest Moon is a great series to utilize the streetpass functions as well as the 3D visual effect. With either version though, you can be sure it will be filled with that same charm that made this once small series into now a staple of video game history.