Love Might and Magic but wish it would come to Playstation 3 and Xbox 360 already? Well, Ubisoft have released new gameplay videos for their upcoming PSN and XBLA game, Might & Magic: Clash of Heroes HD.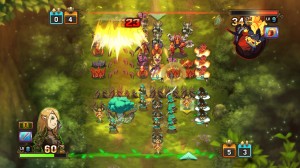 There are two gameplay videos that were released: Basic Tactics on Playstation Network, and Advanced Tactics on XBLA. The game is similar to the Might & Magic: Clash of Heroes game that was released on the DS in 2009, combining a role playing, turn based strategy game with a puzzle game. The basic tactics video covers the simple gameplay strategies, such as creating walls and and attacking, while the advanced tactics video demonstrates the special abilities that can be used by different factions, as well as units in combat.
Check out the Basic Tactics video at the Ubisoft site here, or have a peek at the Advanced Tactics video below.