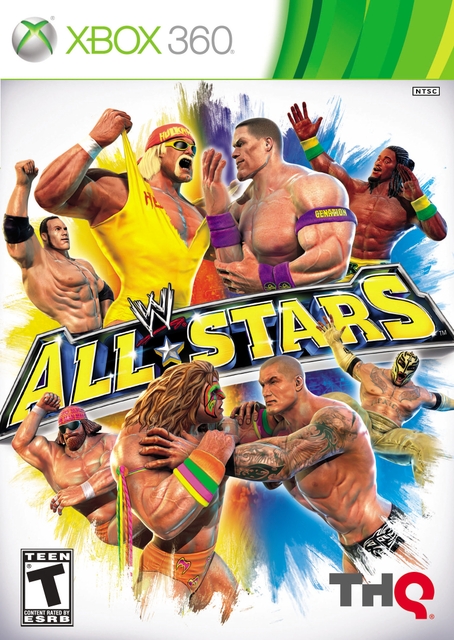 After many commercials, screenshots, and even a demo, THQ has finally released WWE All Stars in the states. The game as you should know by now takes everything we know about a wrestling game and flips it high in the air with some over-the-top arcade style action. For those who have not been keeping track, WWE All Stars is to have a jam packed roster full of legends such as Hogan, Savage, and Ultimate Warrior as they square off against eachother and the Superstars from today.
THQ released this statement on the release of All Stars:

"WWE All Stars delivers what many core WWE SmackDown vs. Raw fans, casual followers and the WWE Universe have been demanding in a new and original take on WWE videogames," said Danny Bilson, Executive Vice President, Core Games, THQ. "From smart, highly accessible gameplay to the greatest roster we have ever featured in a WWE videogame, WWE All Stars is a must-have product for anyone looking to have a fun, interactive WWE experience."
I would consider myself a hardcore follower of the WWE (not as much as I used to be, but compared to most I guess I would fit somewhere in there), and I have been begging for an alternative to the Smackdown series for a few years now and hopefully All Stars will take the cake. I remember WWE Crush Hour, Wrestlemania: The Arcade Game, WWF In Your House, and tons of other light spin-offs of more core titles that to this day go back and play as sometimes it is just fun to not be so serious about a sport that isn't honestly that serious to start with. WWE is now all about entertainment, and that is what I want to experience when I play any WWE title these days. I could care less how many button taps it takes to break out of a sleeper, or doing a mini-game just to throw someone out of the ring, just MAKE IT FUN!
Luckily, this game does look to fit that bill perfectly, so if you want a fresh wrestling experience, you can pick up WWE All Stars for the PSP, PS2, PS3, Xbox 360 and the Nintendo Wii now, BROTHER!!!!