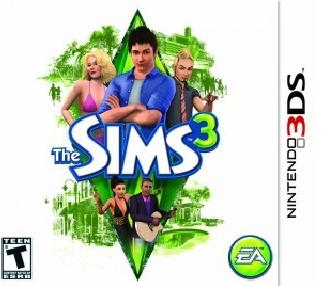 For those who have been patiently waiting for the 3DS down under, the system is now available in all retailers nation-wide in Australia. With the 3DS launch comes a handful of ports and remakes including The Sims 3. I am sure many of you have played the third installment for the franchise by now in one way or another as it has graced nearly every platform, but EA have now got the 3DS covered with in the launch of the console with The Sims 3.
EA released this statement about this next incarnation of their popular title:
"We've created a game for the Nintendo 3DS platform that includes everything players love about The Sims like build and buy mode, Create a Sim and more in order for them to have the richest experience possible in a 3D environment," said Scott Evans, General Manager of The Sims Studio. "The Nintendo 3DS system is a highly anticipated launch for players across the globe, and we're ecstatic that The Sims 3 will be one of the first games available for people to play."
I have heard that this version is a bit more streamlined, but either way as big as the franchise has become, it is nice for 3DS owners to have a choice to create their sim on the new handheld. I still need to get this version myself as I haven't burned down a house yet on the 3DS and that really needs to change. You can pick up The Sims 3 today everywhere and for you New Zealand residents out there, hang tight as you will be seeing a release tomorrow on April 1st.