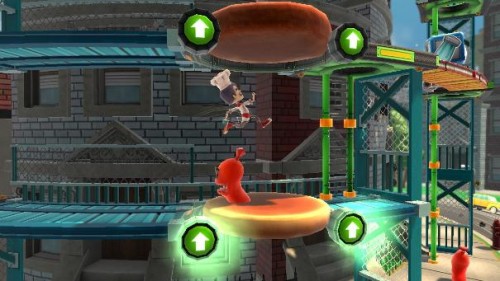 Not too long ago, we brought you some news about an ESRB rating which came forth for BurgerTime HD. Today all you hardcore Peter Pepper fans can celebrate as the studio has finally announced this reboot officially and shed some light on what players can expect. BurgerTime HD will be coming to across all major console platforms this summer on the PlayStation 3, Xbox 360, Wii, and PC in digital format. My main question I had was just how this title would work and how true to the original it would actually be. Thankfully it looks like the core mechanics of bun dropping and running from classic enemies such as Mr. Hot Dog will all remain the same, but with a completely new coat of paint as well as some new elements of gameplay that will launch this classic into the present.
Players will travel through 40 cylindrical 3D levels with 4 different bosses that must be dealt with as they rush to safely create these giant burgers. Four-player local and online play have also been added to give some nice competition with other chefs as you compete in intense patty building mayhem. Elements such as DLC ,leaderboards, chat, achievements and trophies have also been added in to bring this oldie more up to date with the times as well.
MonkeyPaw also released the first set of screenshots (which you can view below), and I am really liking what I am seeing so far. I never really thought about what BurgerTime would look like if we would have ever seen a brand new incarnation, but even though it looks like a brand new title, it still has the same BurgerTime appearance that many gamers grew up with and have seen make appearances on several retro collections in years past. This summer marks the release for this evolution to the series and as soon as an official date comes forth, we will be sure to let you know.