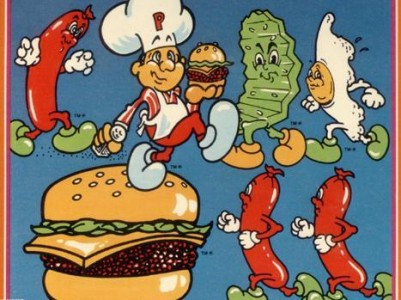 Did you know that there is going to be a Burgertime HD? I sure didn't up until now. But that is exactly what has popped up under a recent rating on the ESRB's website. Monkeypaw Games are now giving this age old classic a complete overhaul by the sounds of it, with all the bun-crushing action a player could ask for.
Here is a look at the officially rating which gives a small tidbit of information:

BurgerTime HD
Platform: Windows PC, PlayStation 3, Wii, Xbox 360

Rating: Everyone
Content descriptors: Comic Mischief
Rating summary:
This is an action-platformer in which players assume the role of a small chef who must assemble giant hamburgers. Players must avoid 'cartoony' hazards (e.g., grill flames, spikes traps) and oversized enemies (e.g., carrots, apple cores, hot peppers) in each level. The chef blinks and falls off-screen when hit; enemies react to damage with a 'dizzying' effect.
Of course nothing is known other than the platforms and that this title is sure to be strictly a digital release at the moment, but I look for that to change soon. From the description, it sounds about the same gameplay-wise and hopefully Peter Pepper will be reprising his role. I have some very fond memories of BurgerTime (I actually just bought an old Midway Collection just for that title alone recently), so I cannot wait to see how exactly this reboot will go. For now though I would say just stay tuned for more information.