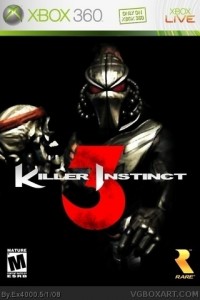 NOTE: This box art is just fan art! 🙁
Killer Instinct by all means is a classic title in video game history. For anyone who have forgotten, or isn't aware, it was an arcade fighting game released in 1994, developed by Rare and published by Nintendo and Midway, and was the first arcade fighter to ever use an internal hard disk drive, allowing it to hold massive amounts of data and handle detailed graphics. It was known for having a unique auto-combo system where players could preform up to 80+ hits, the introduction of combo breakers, and rather than having best of 3 rounds, players were given double-energy bars to fight to the death. On top of this, it had a dark theme too it, similar to Mortal Kombat in regards to violent finishing moves known as 'No Mercies', similar to MK's fatalities, as well as dishing out ridiculous amounts of awesome blood. The game also had a much loved soundtrack, which spawned it's own cd called 'Killer Cuts', which was available with every copy of the game's Super Nintendo port. The Super Nintendo version was also well known for having the notorious black cartridge, as opposed to the common grey one. The game was also later ported to Game Boy, with obvious downgrades. Killer Instinct's popularity led to a sequel, Killer Instinct 2 1996, which was ported to the Nintendo 64 as Killer Instinct Gold. Many rumours since have been spread about the possible Killer Instinct 3, which has unfortunately never seen the light of day. However, for a game with that doesn't exist, it sure does have a lot of history to it! Let's take a look at the history of Killer Instinct 3 over the past 15 years and see what fans and gamers are still dreaming about…
RARE GAMES GRABBED BY THE GHOULIES, CONKER, & BANJOE KAZOOIE TEASE KI3
In 2003 Rare released a game called Grabbed by the Ghoulies, and in 2005 they released a game called Conker: Live & Reloaded on the Xbox. Both games teased KI3, hinting that it could possibly be in the works. These small, tiny insignificant cameos spawned many, crazy rumours, and got many fans excited. To hype up Killer Instinct 3 even more, Rare's beloved Banjoe Kazooie even joined in on the fun of teasing about a third KI.
Conker reads a magazine with the KI logo, Grabbed By The Ghoulies features KI on an xbox cartridge.
Watch Conker playing Killer Instinct on a gameboy while playing Sabrewulf's theme song here.
Banjoe Kazooie even decides to hint about Killer Instinct 3!
2007: Rare Releases Christmas Card Teasing KI3
Almost ten years after Killer Instinct Gold, after much begging from fans for a Killer Instinct 3, Rare began to tease and hint about Killer Instinct 3, in small ways to tease fans, beginning with a Christmas card in 2007 featuring Banjo Kazooie. As you can see in card below, you can clearly see a christmas stocking saying 'KI3'. Fighting fans every where went crazy, and the internet exploded. A simple search in google is clear evidence of this, as it flooded almost every game-releated forum you could think about at the time. But fans would get their hopes up many, many more times.
2008: FANS GET HOPES UP OVER A 'KILLER CLASSIC'
A few months later in February 2008, fans again got their hopes up. A magazine called Xbox World 360 included a few small words in a section of their magazine talking about subjects that would be mentioned in the following month. The sentence was simply: ""….and a KILLER secret game" and went on to say "Let's just say, it's a biggie, a reinvention of a CLASSIC" Many assumed Killer Instinct 3, because of the use of the words 'killer' and 'classic'. But this was not the case, fans again would have to wait and hope for the next instalment.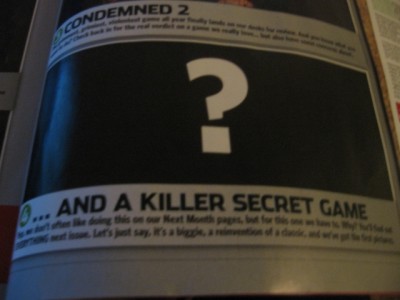 2008: SUPPOSED 'LEAKED' KILLER INSTINCT 3 MUSIC SHEET
Many rumours surrounded the title, including that there was even a secret team working on Killer Instinct 3. Then in September 2008, this music sheet was apparently leaked to fan site mundorare.com, and once again fans were excited. Many even went so far to try and create the music hinted on the sheet, the most popular of which has been re uploaded to youtube countless times, and it can be heard here.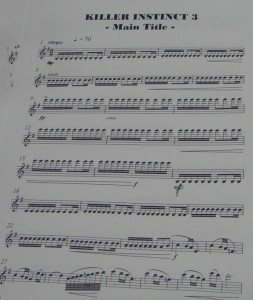 2010: SUPPOSED 'LEAKED' E3 LINE UP
Later in 2010, this image hit the internet, claiming to be a leaked copy of the 2010 E3 line up. Many of these games never saw the light of day, but some did. In fact multiple games actually were revealed for the 2010 E3 conference, such as Killzone 3 and Dead Space 2. Many games are actually being made or have been made, such as Gears of War 3, Mass Effect 3, amoung others. Of coarse though, titles like Battletoads, Call of Duty: MMO and Killer Instinct 3 remain our many gamers 'we wish it existed' lists!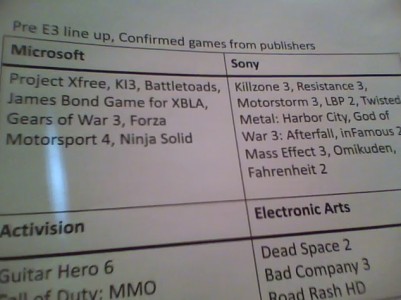 2011: EX MIDWAY-MAN SAYS  'LOVE IT IF WE COULD REBOOT KILLER INSTINCT!'
Now last week on Twitter, while answering questions on the latest Mortal Kombat title, Ed Boon of NeatherRelm Studios mentioned he'd love to reboot the Killer Instinct franchise if he could. For all those unaware, NeatherRelm is the rebranding of Midway, who published the original Killer Instinct alongside Nintendo. Of coarse this means next to nothing, but it does show at least people are still interested in the franchise, and most likely some fans are gonna get excited over something little like this, but they shouldn't, its still not coming any time soon!

This tweet was in response to not so serious tweet about a Mortal Kombat Vs Killer Instinct game, but of coarse the internet has already thought of that cross over!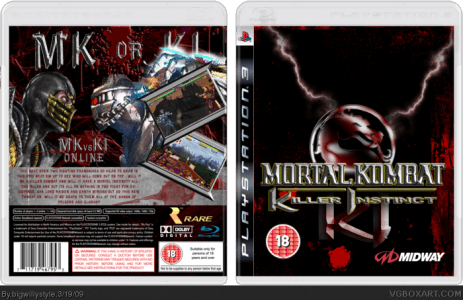 2010: WORDS FROM 3 DUDES AT RARE
So everything so far has been just spectulation, but what does Rare have to say about any of this? A LOT of talks f KI3 occurred in 2010 last year, bringing many hopes up!
The most promising words have came from creative director of Microsoft Game Studios Ken Lobb, the man behind the 'Ultra Combo' in an interview in 2010, at X10. In the interview, Lobb said "I love KI! We wanna make KI, we're not working on it today…..someday we'll bring back KI!"
Lobb spoke more of KI3, revealing some interesting information as well. "Actually after KI2, we started KI3 so there was some early work done on it," he said, "Someday, maybe. I think in some ways – again, we don't have any plans – but if we were going to do a KI3, we'd probably start with KI1 on XBLA, you know to a.) see if everyone is still interested in the IP, but also as a reminder of what it was like….Street Fighter is a great example of that, right?" he went on to say, "They obviously did Street Fighter 4 last year very successfully, but right before it, Street Fighter HD. It sold very well. I've always been a huge fighting game fan so I never really "got out" of Street Fighter, but when Street Fighter HD came out, I played the crap out of it. I was excited to get Street Fighter 4. I think the same thing could work."
But he's not the only one from Rare to talk of a third Killer Instinct with Kinect features. Senior Software Engineer from Rare, Nick Burton mentioned KI3 in an interview in 2010 to the official Xbox magazine. When asked about KI, he said  "Maybe Killer Instinct Kinect." And when it was asked if it would work, he stated "You'd have to play our boxing game and decide if you think it would." Also, the head of Rare itself, Scott Henson, spoke of reviving Rare's classic retro games for the XBLA. "You can look at what we're doing with Xbox Live Arcade and you can see how we've taken those classics and refreshed them and brought them to the service. We'll continue to look at those kinds of opportunities." He also acknowledged KI, showing Rare hasn't forgoten about the franchise, stating"I know Killer Instinct is very high in the fan list and one we need to continue to keep our eye on."
NO SERIOUSLY, WILL KILLER INSTINCT 3 EVER COME?
Rare no doubt does not forget Killer Instinct, they're probably just unsure if it'd sell as good as they'd hope since it's been so long since Killer Instinct 2.However, gathering from all the information we have, it's pretty safe to assume that:
Rare hasn't forgot about Killer Instinct, and it may return one day.
Most likely Killer Instinct will one day receive a HD remake for XBLA, and if sales are good, they may consider a KI3.
If KI3 does come, it MIGHT include kinect features.
When more news on the topic arrives, this article will be updated, so keep an eye on this! In the meantime if you noticed any mistakes, or have any new information on Killer Instinct 3, you can send an email to me at Mvella@capsulecomputers.com.au or just leave a comment below! Furthermore, if your  a Killer Instinct fan and would like to see a third instalment, let us know by putting a comment down below as well! C-C-C-C-COMBO BREAKER!!!!