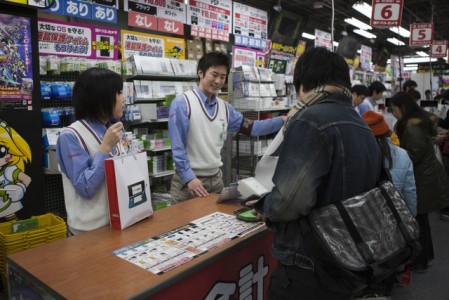 In case you didn't already know, today, February 26th marks a huge milestone for Nintendo with the release of the Nintendo 3DS in Japan. As I type this I am sure many Japanese gamers are now breaking in their consoles and getting to work on some of the launch titles which makes me just a tad jealous.
The new system is packed full of features such as the ability to play titles in full 3D (with a depth slider) on the top screen as well as take 3D pictures, a motion sensor and gyro sensor allowing the player to tilt the system to react to certain titles and applications, and the Nintendo Streetpass and SpotPass functions which will make the handheld a bit more social by trading and transferring data among other 3DS' instantly.
Of course if you have been keeping up, you should know all that by now. It looks like the console is selling extremely well, as fans have been said to be "lining up around retailer's blocks everywhere" just to get the new device, with the systems selling out quickly all over Japan. This now means that soon it will be our day to get the Nintendo 3DS with the release dates of February 25th for the UK, 27th for the US, and 29th for Australia. I am sure this release will be just as big everywhere else, but for now we must wait to see the numbers from the first week's sales. This also means that news should start to flow out about how the device handles, or if there are any problems with the unit.
There have been tons of unboxing videos on Youtube from Japan in the past 12 hours which I have spent quite a bit of time watching myself, but I now leave you with one that simply shows how sleek the 3DS really is, as well as showing off the size and cartridge slot which it will boast. Check that clip out below, and we will keep you updated as more news comes in.