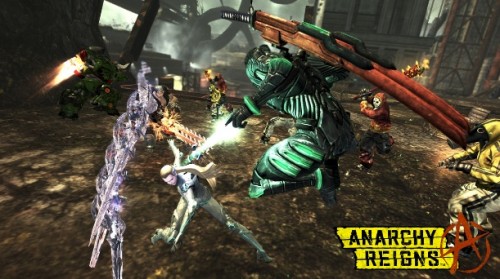 You know, giving the exact same game the same name in two different regions doesn't make any sense these days. You must give multiple names to the same game so. Why? Ask Platinum Games, they seem to know why.
The new multiplayer online brawling game from Platinum Games was originally announced in Japan as "Max Anarchy." This name won't be coming with the game as it transitions to the western regions, North America and Europe. It will still have the same gameplay but Sega announced today that the game is being released this fall as Anarchy Reigns, on PlayStation 3 and Xbox 360 in the west.
SEGA states that Anarchy Reigns "challenges the boundaries of the conventional brawler genre" with large scale online multiplayer. The announcement continues by stating that several different multiplayer modes will be available, including modes such as tag team and "Battle Royal, where players can challenge others in a full-on fight for victory."
Sounds promising! Just remember that "Max Anarchy" and "Anarchy Reigns" are the exact same game as you peruse our site. Based on the press releases we get our naming convention may be altered from news post to news post, since we have editors based all around the world.