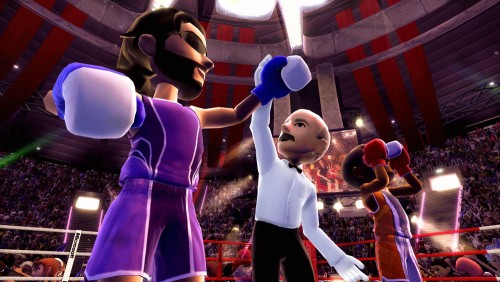 If you feel like your line up of games in Kinect Sports is feeling a little thin already, then you are in luck because Microsoft has just released a completely free bundle, courtesy of Samsung it seems, today for the XBLM.  The DLC pack itself is called the Party Pack and includes a new Challenge feature that will track the scores of your minigames and compare them with your friends, so more or less a leaderboard.
That isn't all however as the pack will also include six new minigames that are added into the existing sport categories. You can catch all of the minigame add-ons below. You will also be able to play with three new Party Play mascots such as Zippy Zombie, Champion Chicken, and Sportastico. This is a great little add on and considering the fact that it is free, there is no reason to pick it up; even if you don't have the game yourself. You can download the Party Pack here.
The full description of the add-ons can be seen below:
SuperStriker for Soccer lets you score as many goals as you can and avoid the boots.
Pinvaders for Bowling lets you stop the pins before they reach the hazard zone.
Rapid Runner for Track & Field lets you run the furthest distance before you run out of time.
Target Smash for Table Tennis lets you smash the targets to grab the score.
Fruit Splatter for Volleyball lets you hit the fruits while dodging the bombs.
King of the Ring for Boxing lets you knockout as many opponents as you can.
Also announced was a bit of news for Kinect Joy Ride as that game will too be getting free DLC. On January 4th the Chevrolet Car Pack will be able to be downloaded completely free as long as you take a look at a Chevy ad which will eventually show up on the Xbox Live dashboard. This car pack will add in the Camaro, Corvette and Cruze.