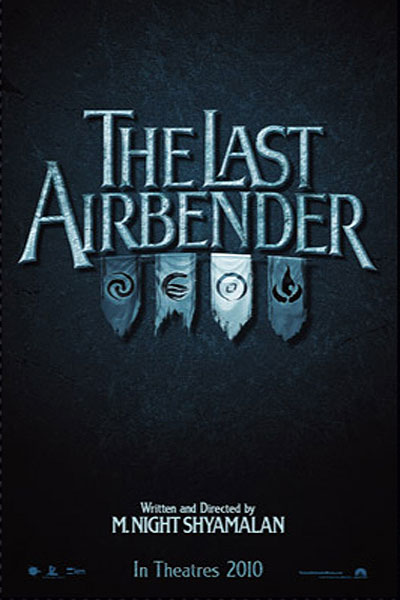 So my friends and I went out and watched "The Last Airbender" yesterday, and it was someone's brilliant idea to get there an hour early. Why? Because he thought it would be busy. Was it busy? NO! But we all hung out in the theater laughing and having fun for an hour, which turned out not to be that bad. Turns out movie theaters have a GM as well, any gamer hears "Game Mod" when they hear GM. Since all my friends are gamers we all heard "Game Mod" and had a lot of fun with that one. Sadly, the GM was not in until 5pm and we were leaving at 4pm, so I couldn't meet him.
So we got into the actual movie, and yes we went to the 3D version. These 3D versions are completely overrated. They don't do anything at all. Its like a bunch of smart nerds got together and asked the question "How do we make everyone look stupider then us". There solution? 3D movies! Get a whole bunch of people together to watch any number of movies, and make them wear these really nerdy glasses. Has anyone turned around during a 3D movie? It is like a giant nerd convention. I have nothing against nerds, but they finally got their revenge on us for making fun of them all those years. The movie wasn't even that 3D, the preview for "Owls of Ga'hoole" had better 3D than the entire "The Last Airbender" Movie.
Now it is time to discuss some of the actual movie, no spoilers though of course. "The Last Airbender" is actually not that bad of a movie, and I really did try to watch it as if I had never seen the cartoon series. I failed horribly, but I believe if I hadn't loved the series so much this movie would've been pretty good. It may disappoint a few people to find out it is only the first movie in a trilogy, but overall the movie is good to first time watchers who haven't seen the series.
As for those of us who have actually watched the cartoon, there are quite a few annoyances located in the movie. First off, a bunch of the character's names are mispronounced. Secondly, the fancy foot and arm work before they start their bending got really lame. Nothing was fast paced, there was about a minute of fancy flips and stances before any actual bending occurred. While I'm on the topic of bending, I have to say that the director overused slow motion. The bending is really cool, but whenever it occurred everything goes into slow-mo and the impact occurred and then everything speeds back up. This happened throughout the whole movie, and while it was good at showing off the impact of certain bending types, it just didn't leave a good impact. It didn't give the "ooh aah" effect, but instead the "Oh, fire and water collide to make a steam cloud… Who would've thought!"
The final thing that bugged me was the plot. Now this one is a really big annoyance. I can overlook some of the chronological disorder that is present because they have to set up for future movies without leaving the audience confused. What I cannot overlook is the fact that it seems like the director realized that he forgot major plots in the story and decided to throw them all into the movie in the last 15 minutes he had available. Also, did anyone else who has seen the movie hear "3 years before souzin's comet hits". I went with 4 friends and we all heard 3 years. It is supposed to be 3 months, 3 years is way to much time. Can anyone else confirm or deny to hearing 3 years?
Overall, the movie really isn't that bad. I went into the theater expecting to be completely disappointed, and I wasn't. The movie was pretty good, and with the right mindset it is quite enjoyable. There were the few annoyances for those that watched the animated series, and then there are a few things that you can only understand if you watch the animated one that everyone else would be confused about. Was it an awesome #1 movie? No… but it wasn't an atrocious movie either. On a scale between 1 and 10? I'd probably give it a 6.5. But I don't rate these movies because everyone has different opinions on what they want in a movie. I just want lots of action and killing, but you might be looking for a story while the other guy over there is looking for something really funny. It is all based on the opinion of the viewer.