It's your last chance to take advantage of Steam's Summer Deals, today is the final day for all those crazy deals.
For this final day Steam is doing an encore for the Summer Sale's Top Sellers. Check it out: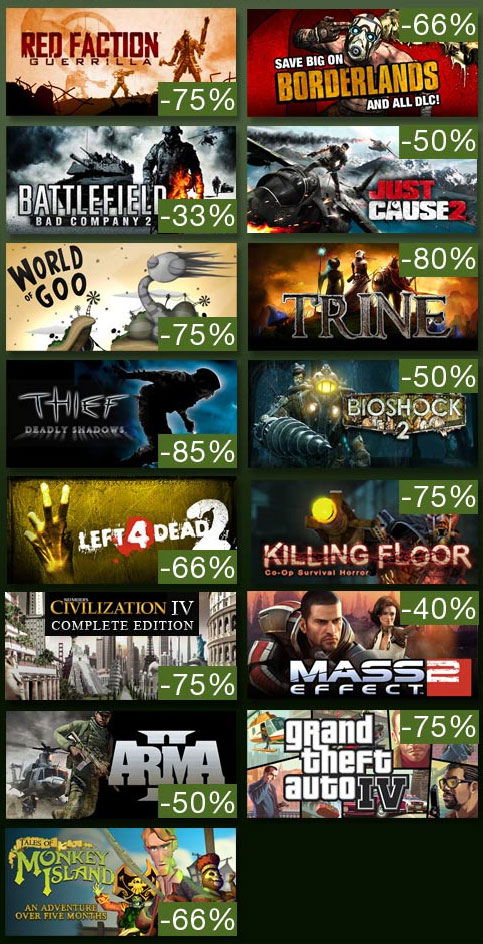 Click on the image to check those deals. You can look for even more games on Steam's website, there's a lot of "hidden deals" too.
NOW LETS GIVE AWAY A RANDOM STEAM POWERED PC GAME !!   This will be a PC GAME from Steam.  It will be RANDOM you wont be able to choose it .. So it could be anything thats currently on special at the moment 🙂
LEAVE A COMMENT BELOW and let us know what BARGAINS YOU'VE ALREADY PURCHASED from STEAM !! And also what GAMES You still want to get before the SPECIALS END !!
Once entry per person.  Lucky winner will be announced on this post at th end of the week (THIS FRIDAY 9th JULY) 
–
And don't forget to keep following Capsule Computer's for a chance to win other cool stuff in the near future!
–
OK WE HAVE A WINNER of a RANDOM STEAM GAME !! AND THAT WINNER IS :
Will

who said:
I haven't bought anything yet but I would like to get GTA4 or Battlefield!!!!!!!
–