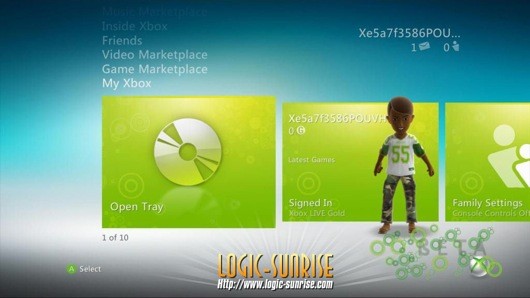 Everyone has been expecting a newer New Xbox Experience in order to accommodate Kinect, but everyone is still curious as to what it will look like though.
French site Logic-Sunrise has posted some screenshots of what seems to be newer version of the Xbox 360 Dashboard interface (then again it could just be an awesome fake).
This new dashboard includes an updated appearance. Appearances changes include a more 2d tile setup, a shift in location for a few things, and the removal of the giant gray block that covers up half of the background theme. Custom backgrounds will once again look good! I'm ready to put on my Matrix code background once again!
There are also UI features a "Natal Tuner" application and a "Natal" setup process (which tells people to go to the @xboxsupport Twitter account). Note that the images are from a beta, that makes sense for Kinect to still be called Natal.
While quite a few people are calling fake on these images, they may be true. The two screenshots at the bottom of this xbox page: http://www.xbox.com/en-US/kinect/entertainment.htm seem to have a very similar dashboard setup.