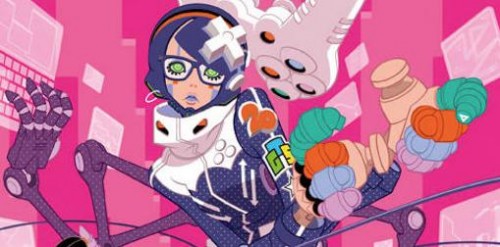 The Computer Entertainment Supplier's Association and Nikkei Business Publications, Inc. will be sponsoring the Tokyo Game Show of 2010 from September 16th to September 19th of this year. And they have also unveiled the focus of this years Tokyo Game Show, and that is the gaming of the future. This could explain a bit about the mascot this year and how she appears to be some sort of android mixed with console accessories.
The Tokyo Game Show itself will be held at Makuhari Messe in Mihama-ku, Chiba City, Chiba Prefecture. Not quite sure where that is myself, but I would definitely not pass up the chance to be there if I could. Now onto what their focus truly means in depth.
Over the past year gaming has begun to evolve. There are so many fields of gaming with smart phones rising to become viable gaming devices, Social Networking Sites such as Facebook partnering with game companies that will take in hundreds and millions of people, there is even the movement from 2D gaming evolving into 3D gaming with the 3DS and the PS3 starting to take steps in such a direction. The Tokyo Game Show intends to ride along with the wave of new ideas and become one of the largest events in the entire world and becoming the top source of gaming information in the entire Asian region.
The visual mascot this year has been designed and drawn by Ippei Gyoubo has drawn the gaming-tan type woman for this purpose. By using the parameters given to him by the Tokyo Game Show, and their catchphrase "GAME goes to a new chapter" he drew an idol who is using various bits of equipment to talk to people all around the world, just like those we use all the time now. She offers the wish that you would fall in love with gaming and resonate the amazement of all the video games in the world.
To see the full poster click Here.
Quite a unique outlook huh? Anyone can see how involved they are really getting into the advancement of gaming. Plus they have made some very good points about what they have mentioned. I doubt many people could have predicted that Farmville would have taken such a huge chunk out of the gaming marketplace. Or even that there would be the advancement into 3D gaming yet. Will these types of advancements actually help everything? Or will it end up being a simple gimmick that will fall into obscurity? Time will tell.