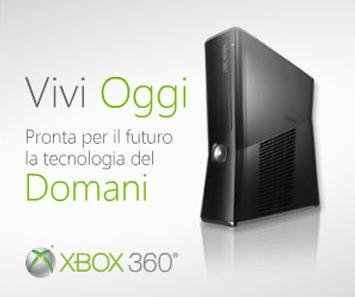 So first we have the USA Today slipping up and letting the steam out of Microsoft's announcement on the Kinect. Now an Italian website named Console Tribe was seen running an ad on the side of it's website showing a strange new Xbox 360 design. Of course this time though they have removed their ad as quickly as we could snatch it up. So you won't be finding the Ad on the site no matter how hard you look but we have it above. Not only that but the Ad actually belonged to the Italian branch of Microsoft. Woops.
The ad is boasting that this is the new more advanced 360 with a 250 GB hard drive, which is available now already. But it will also have Wi Fi incorporated into it with a wireless connector which will save people the trouble of purchasing the hardware needed to connect to Xbox Live wirelessly at the moment. It also will be compatible with the new Kinect which we already know about now. Though why does it have to say it will be compatible? Is there some reason that other Xbox 360's would not be compatible? This could mean nothing but also could be a sign some may have to purchase a new console to use the Kinect.
Bear in mind that this is all speculation on an Ad that was pulled quickly. Microsoft has claimed zero ownership and most likely will not say a thing. We'll find out at E3!