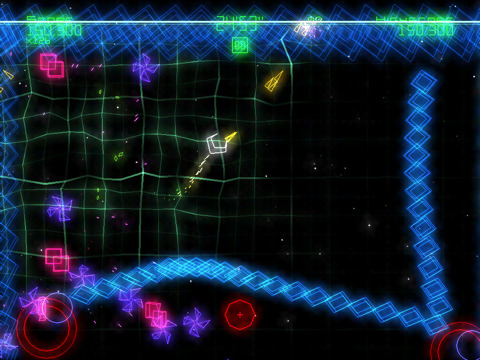 Looks like Activision has released Geometry Wars: Touch (click to download) now for the just released iPad at the cost of $9.99.
You may have heard of a game called Geometry Wars: Retro Evolved 1 & 2 for the XBLA, and may have also played these games. If you have played either one then you will know quite well exactly how fun Geometry Wars itself is, and what it has to offer. Geometry Wars: Touch offers the exact same features and modes as Geometry Wars: Retro Evolved 2, including a brand new mode called "Titans"
List of modes included in iPad:
* Deadline: This mode will set you against endless amounts of enemies with as many lives as you may need, providing three minutes to reach your highest possible score
* King: King of the hill style gameplay, where you will recieve only one life, and must travel between safe zones and destroy the enemies between them
* Evolved: Possibly a re-worked version of the original Geometry Wars: Retro Evolved
* Pacifism: One life to live and no weaponry to speak of, your only hope is to fly through explosive gates to destroy your foes
* Waves: You must survive as many waves as possible of enemies, with only one life. Did we forget to mention that the enemies com from all directions and in literal walls
* Sequence: Kill every enemy as the levels progress
* Titans: Asteroids style gameplay, involving whittling down enemies until they are no more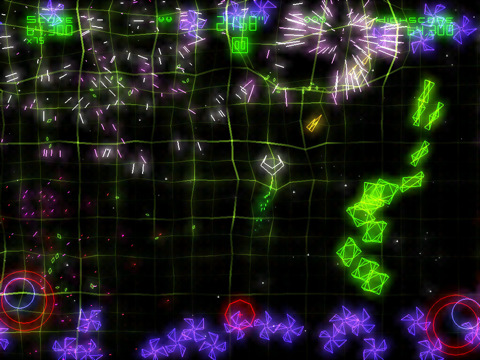 Unfortunately though, there is no word yet if this game will see the light of day on the iPhone/iPod Touch. Has my previous fear come to pass? Will applications and games for Apple products be directed directly at iPads now and leaving the iPhone/iPod Touch as outdated material? I certainly hope not. Only time will tell if there will be a version released for the iPhone/iPod.
Who here has played Geometry Wars for the XBLA? Do you think that this will be a good transition for the game?