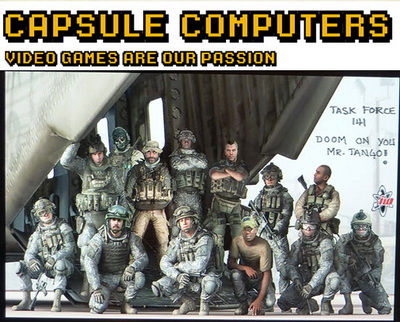 Well well well, here we are a little bit over a week to go before you can all get tactical with the Capsule Computers team on MW2.
Just to remind you all – here is the link again – GET TACTICAL
So here is a little story. @MiniDuraRoc, who I might mention is a bit of a football star, was bugging me to get Ultimate Team for FIFA10. So I was still sleeping and he said, Dad.. can we get it now, it's 1200 points… I said.. narr just wait, I will get some points from Gamecard for a bit cheaper, and then use that.
So I buy 1500 MS points that day, and wait for him to come home to get it. So then I find it's only 400 points.. and I already had 471 in my account..so I just used that.
The moral to the story is this. I now have a 1500 MS Points code (AU/NZ) in my email, which I was thinking, hey, I reckon I might give this away on the get tactical night to the person who doesn't piss me off the most! HAHAHA.. oops sorry.. The person who I think played the best and fairest! So there it is boys and girls. Next Friday 12th March 8-11pm Australian Eastern Daylight Time – get tactical with the Capsule Computers team and have a chance to score yourself a 1500 MS Points code!!!!!!!!!!!!!!!!!!!!!!!!!!!!!!!!! OMG!!
Anyway, did I mention that xI Rock Ix is a bit of a noob tuber? And when he isn't tubing he is shotgunning and also pistol killing people?
Have fun, hope to catch you all next Friday night. For anyone going to the FFXIII night tomorrow at IMAX, hope to catch you there!