From yesterday's post regarding Street Fighter IV on the Apple iPhone / iPod Touch.  Capcom have release their official press release.  Have a read and get excited cos I am 😉
–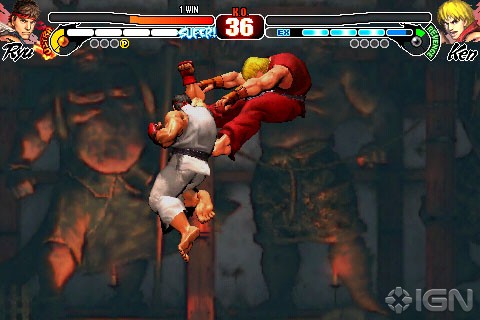 CAPCOM® ANNOUNCES STREET FIGHTER® IV FOR THE IPHONE AND IPOD TOUCH
Legendary Fighting Franchise Set To Make Its App Store Debut This March
LOS ANGELES, CA – February 16, 2010 –Capcom®, a leading worldwide developer and publisher of video games, today announced that Street Fighter® IV, the definitive next generation fighting franchise, is making its way to  iPhone and iPod Touch this March.  The game will feature a roster pulled from recent console releases including several classic and newly introduced fighters.
"This is Street Fighter 4 in all its glory… uncompromised and awesome," said Takeshi Tezuka, General Manager of Mobile Content Development, Capcom.  "We're particularly proud of the multiplayer feature as it remains true to the series arcade roots by allowing players to go head-to-head over Bluetooth in spectacular fashion."
Street Fighter 4 for iPhone uses an advanced virtual d-pad or "Visual Pad" control interface to immerse the player into the familiar Street Fighter combat system. Players can fully customize the "Visual Pad" interface by repositioning the buttons and d-pad anywhere on the screen through the options menu.  Additionally, players can further refine their configuration by setting the transparency level of the controls.
For newcomers to the series, a new "Dojo" mode unleashes the warrior within turning neophytes into Street Fighter masters.  Once players hone there skills in single player mode they can then go head-to-head against their friends via Bluetooth for bragging rights and the coveted title of "Champion."
Street Fighter 4 will be available this March on Apple's App Store. For more information, visit the Capcom official press site at www.press.capcom.com
–
I honestly can't wait to get my hands on this game and really see how easy it is to do those Ha-Do-Ken's