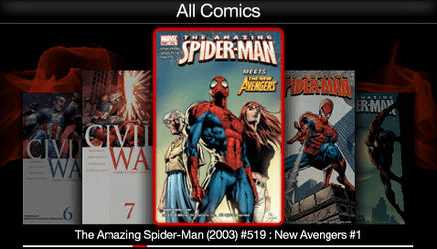 Take your entire comics collection anywhere you go with Digital Comics.
Welcome to Digital Comics, an exciting new service that lets you read and collect all your favourite comic books on your PSP system. Download a massive variety of comic books from the Comic Store of PlayStation Store and enjoy your comics anywhere you go, thanks to the portability of PSP.
Each comic explodes into action with AutoFlow, an innovative new feature that lets you navigate each page how you want. You can also listen to your own music while you read – the Digital Comics experience is entirely under your control.
With one of comics' leading publishers, Marvel Entertainment, and others such as IDW Publishing, Disney and iVerse Media providing hundreds of titles and adding dozens of new issues on a weekly basis, there's always an exciting new read to look forward to.
Try out Digital Comics now with a selection of free comics to download from the Comic Store. And if you want to check out the comic book catalogue, talk to other Digital Comics enthusiasts and find out the latest news, head over to playstationcomics.com and explore exciting new worlds at your fingertips…