Page 1 Page 2 Page 3 Page 4 Page 5 Page 6 Page 7 Page 8 Page 9 Page 10 Page 11 Page 12 Page 13
••••••••••••••••••••••••••••••••••••••••••••••••••••••••••••••••••••••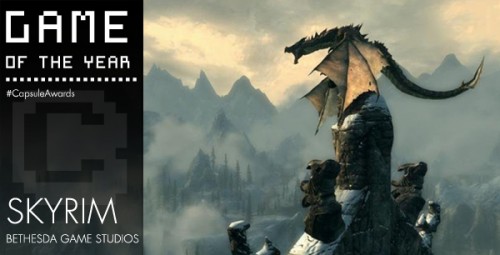 There have been many games released this year, perhaps too many to even count. While most of these could simply be classified as shovelware or cash-ins, plenty of titles this year stood out among the rest and shined brightly in the eyes of gamers. Now one title has shown brighter than all of the rest and that of course is The Elder Scrolls V: Skyrim.
Bethesda's Elder Scrolls series has always sustained a rather high level of quality but Skyrim puts all of its past titles to shame in more ways than one. Not one title this year has the playtime potential that Skyrim has. With countless side-quests popping up nearly everywhere you look, a vast world full of many dungeons to be explored and so many different ways to play Skyrim offers experiences we have never seen before.
Sure The Elder Scrolls V: Skyrim may have some bugs and issues, however what other title could have certain bugs that fans legitimately want to keep in the game so they can have a good laugh or genuinely enjoy the way the glitch affects the title. Skyrim's vast potential, immersive world and the amount of pleasure of playing in a world unlike anything we've ever seen before and spending countless hours exploring it is what makes Skyrim the Game of the Year for 2011.
– Travis Bruno 
•••••••••••••••••••••••••••••••••••••••••••••••••••••••••••••••••••••••••••••••••••
Page 1 Page 2 Page 3 Page 4 Page 5 Page 6 Page 7 Page 8 Page 9 Page 10 Page 11 Page 12 Page 13