Developer: Resonair
Publisher: Enhance
Platforms:  PlayStation 4
Release Date: 09/11/2018
Price: 54,95 AU$ – Available Here
Overview
Tetris was probably one of my first… if not my first video game ever, that I've played endless hours on Nintendo's Game Boy. Following the concept "Easy to Learn, Hard to Master" I was really enjoying how this simple idea kept giving me tough challenges. And of course we can't forget to mention the awesome soundtrack, which got stuck in our head for days after our gameplay sessions. Unfortunately there was never another original Tetris game, that I've played for a long time. The only similar and mentionable title is Tricky Towers from developer WeirdBeard. Now there is Tetris Effect and I had high hopes since I first saw the announcement. Below I'll share my thoughts on this artistic take from the developers behind Rez and Lumines.
Story
With development starting in 2012, the idea of Tetris Effect was a music-based game around Tetris. After some difficulties with the licence, it's now finally available for PlayStation 4 and includes support for PlayStation VR.  The final product delivers a wonderful ride through different scenarios presented through colorful effects and an awesome soundtrack based on your actions. After playing the first level I couldn't get enough of it and I spent several hours playing. Tetris Effect is Tetris how I knew it when I was a child and the modern take on it is very well done by the Japanese companies behind it.

Gameplay
Tetris Effect sticks to the core Tetris gameplay and offers some additional modes. Unfortunately there is no multiplayer included and I'm not sure of the reason but I suppose that the developers wanted to deliver a strong experience for solo players. With thirty different stages there is definitely a lot of content to explore during your journey and every level is very unique on it's own. Sometimes we find ourselves underwater and sometimes we're flying through the air. The difficulty is rising the more you advance and this refers to the speed level, that determines how fast the blocks are coming down. Before you start a level you also have the option to choose between three difficulty modes, it's the same deal here meaning if you took the easiest one, the speed level will not increase that much compared to the other settings.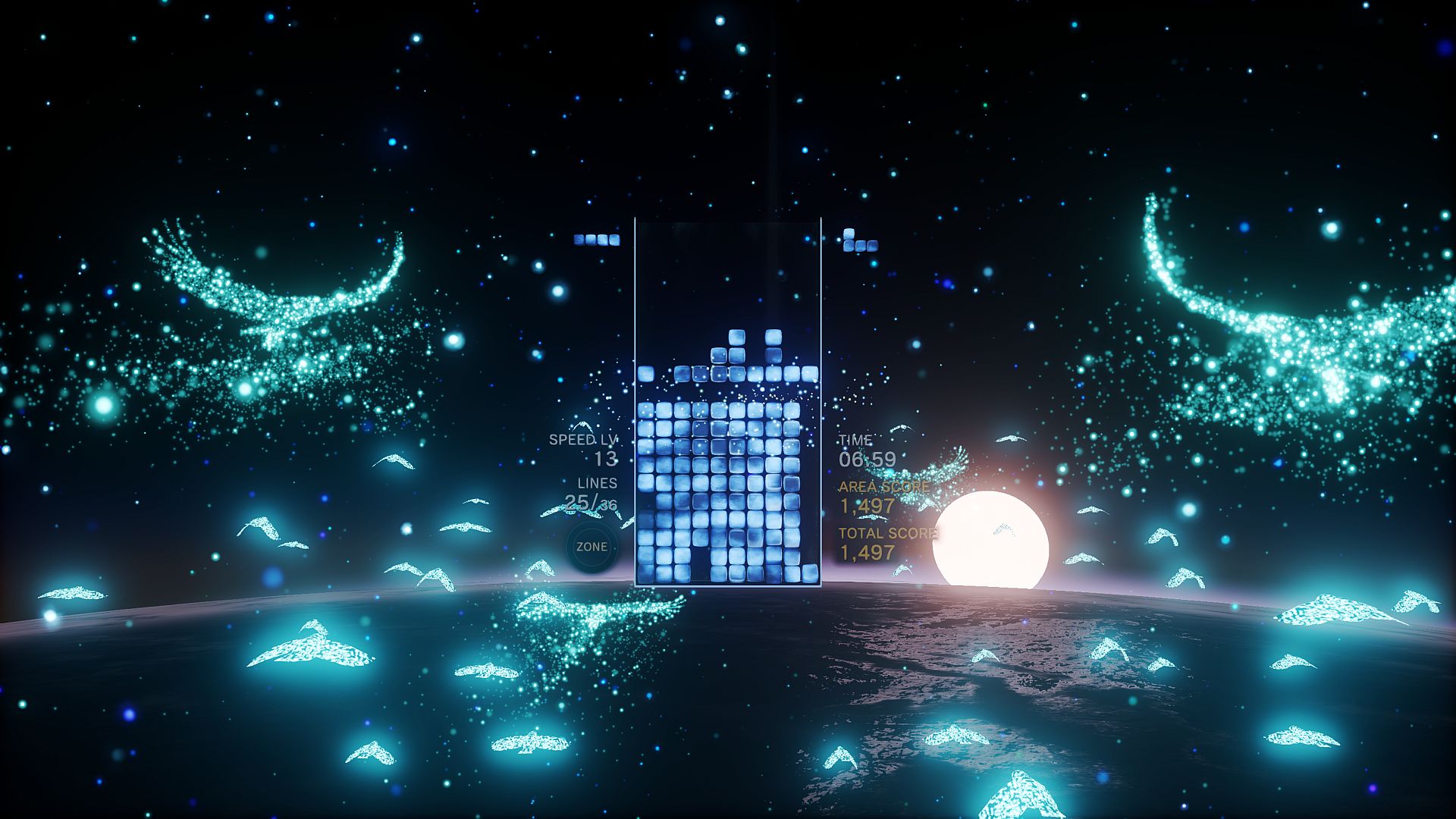 During my playthrough I struggled with some levels, but I kept jumping in again for another try. I'm pretty sure that also experienced players will find their challenge in Tetris Effect. On the other side the game also allows casual players to find joy. Due to the variety of the stages you'll find yourself equally in slow paced moments and stressful situations. Also there might be some stages that you like more than others, this is pretty normal in video games nowadays. If you have a PlayStation VR available then you can also enjoy a better latency, which helps you to play faster and more accurate. The use of the device is not really to move your head around and watch what's going on around you – it's about diving into this beautiful experience and forget about your surroundings for a while.
The Zone ability is something new and you can fill it up by clearing lines. Simply activate it with one button and time stands still, which allows you to be more precise with your placements of the blocks and it also gives you the chance for the first time in Tetris history to achieve a Decahextris; a 16 line combo. If you rather want to play a bit more relaxed, you can switch from Journey Mode to Effect Mode and customize your gameplay experience depending on your mood. There are several categories like Relax, Focus, Classic or Adventurous available for you to explore. Last but not least I want to mention that there's a special surprise waiting for you after you've finished the Journey Mode.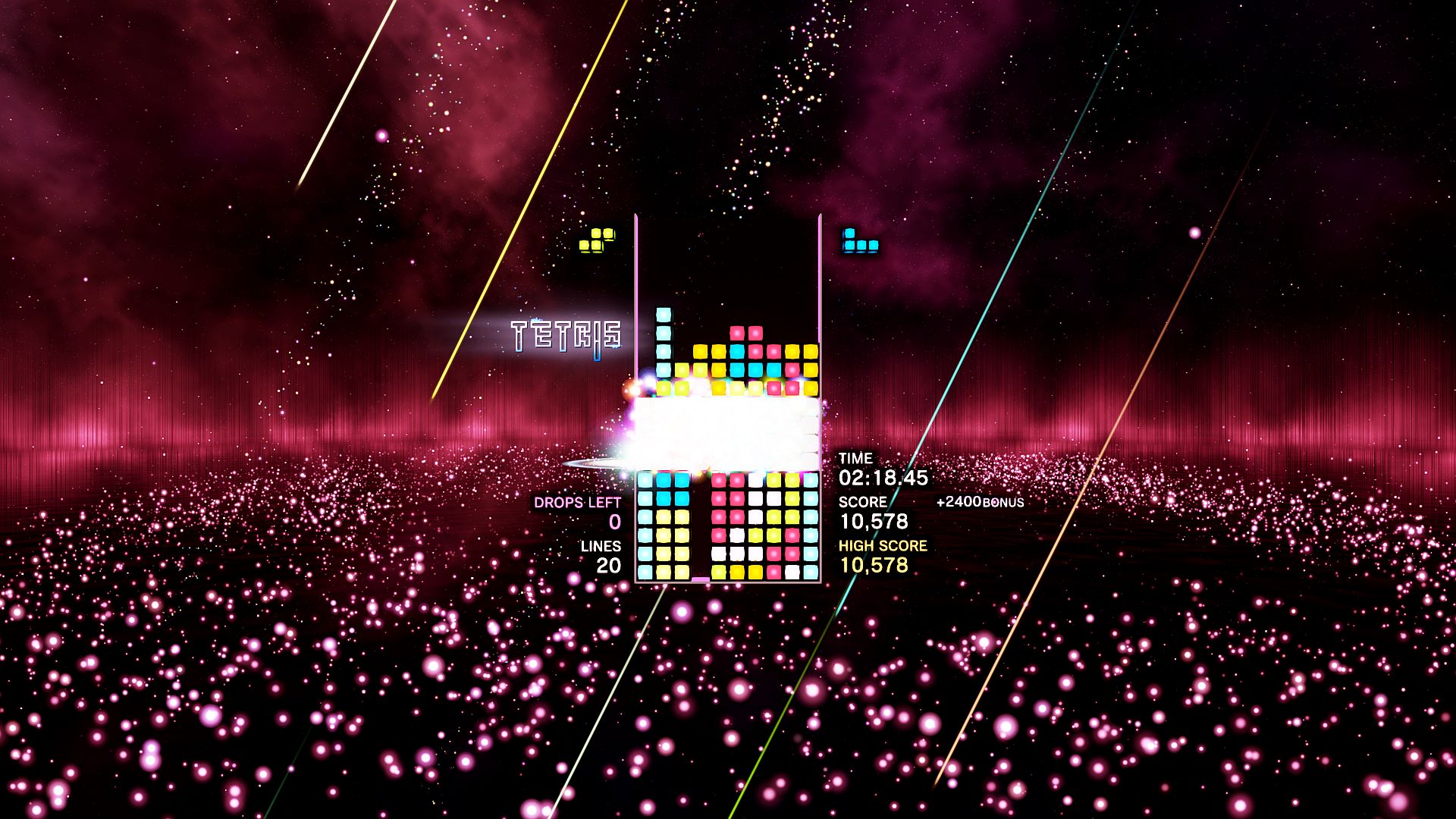 We already talked about the missing multiplayer, but the team behind Tetris Effect at least included an event called Weekend Ritual. The community has 24 hours time to collect points and reach the goal. Rewards like in-game avatars are waiting for you here. I found this a nice extra and am looking forward to participate in some of those events to see if the community has what it takes.
Visuals & Audio
As  mentioned before the visual presentation in combination with an amazing soundtrack is just excellent. Effects are plopping up everywhere and    the variety in it  got me  attached to Tetris Effect for hours every time I started the game. The best part about the music is, that even if the tracks might not be something that you'd listen to in your free time, I'm sure you'll gonna like them in the game. I can't remember when this happened to me the last time, but Tetris Effect is definitely the biggest surprise for me and also one of the best games this year.

Overall
Perfection! Tetris Effect is flawless and one of the most wonderful game experiences I've had since a while. The core gameplay is addictive and I can listen to the songs forever while watching at all those effects happening on my screen. The missing multiplayer might be a missed chance, but it doesn't change the fact that Tetris Effect is a 10 out of 10.Try it out and I promise, you won't be disappointed.