Developer: The Odd Gentlemen
Publisher: Sierra
Platform: PlayStation 3, PlayStation 4, Xbox 360, Xbox One, Windows (Reviewed)
Release Date: 27 September 2016
Price: $9.99 USD – Available Here
Video Review
Overview
The penultimate chapter "Snow Place Like Home" of the King's Quest reboot is set eighteen years after the birth of King Graham and Queen Valanice's twins. After King Graham's rival Manny kidnaps Prince Alexander at birth, Alexander returns home as a young man. Desperate to make up for lost time, King Graham takes a family trip to Hagatha's tower to show his children where Graham and Valanice fell in love.

Story
Warning, spoilers ahead!
As with each chapter in King's Quest, the old King Graham is entertaining his grand daughter Gwendolyn with a story. There is tension among the family, as her cousin Gart is ignoring her and their parents Prince Alexander and Princess Rosella are at odds about their life choices and the future of Daventry. In hopes of helping Gwendolyn, Graham recounts the tale of reconnecting with her father Alexander.
King Graham spends his years searching for Prince Alexander after being kidnapped by Manny, whom King Graham defeated years ago to become a knight of Daventry. Manny is drunk with vengeance, declaring his need to prove Graham's weakness by turning Alexander against his father. After spending years as Manny's slave, Alexander returns home looking for a family and hoping to reconnect with his father. Graham decides to go on vacation with the family and finds himself trapped in a labyrinth with Alexander. His hopes of having a son that is exactly like him is quickly shattered when Graham discovers that his son hates puns and puzzle solving. Even worse, Alexander has developed into a talented magician, capable of harnessing fire with a snap of his finger. Alexander's use of magic frustrates Graham, who is still traumatized by Manny's use of magic to kidnap Alexander. Through their adventures in the tower, Graham must face the challenge loving a son that is different from the one he spent years dreaming about.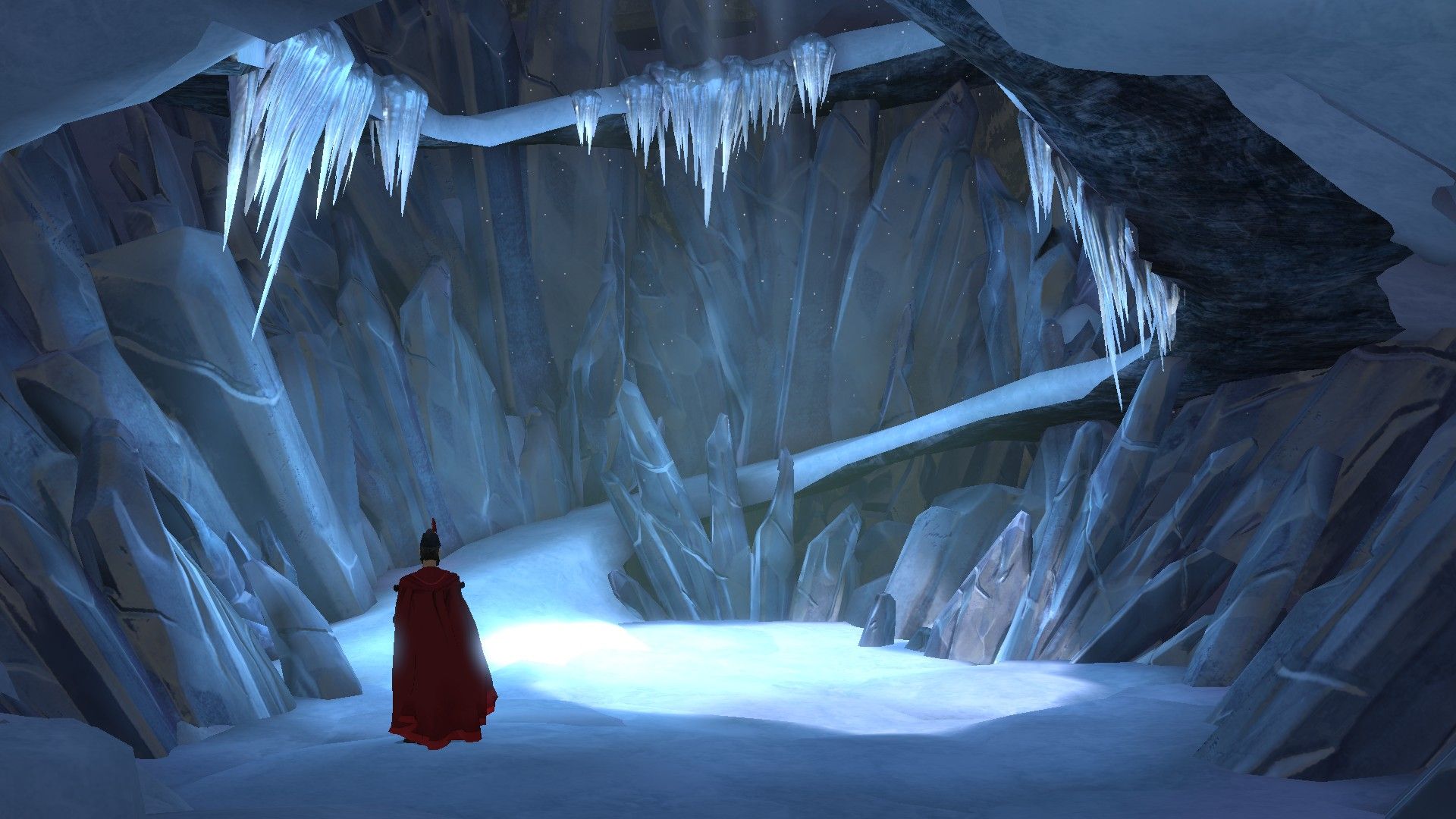 Creative Director Matt Korba said that "Snow Place Like Home" was inspired by the development team's experience of parenthood and family. The personal connection to the chapter's themes and overall plot is very clear as "Snow Place Like Home" is the strongest story so far in the King's Quest reboot. I am very pleased to see that the writers were able to top an already strong third chapter. While the plot's twists and turns were a bit predictable, the story is incredibly heart warming. The greater focus on Gwendolyn and the state of the family at present really ties the whole chapter together, setting the game up for a strong finale.
Gameplay
In comparison to the stellar puzzles in chapters one and three, "Snow Place Like Home" is pretty disappointing in terms of gameplay. A lot of the puzzles in the ice palace use the same theme of a purple path that needs to be completed, with some small twists sprinkled throughout. There are a few really smart and unique puzzles scattered throughout. The general challenge level is quite low for most of the chapter. Having two main characters in the chapter provided a lot of great opportunities for creativity. The developers did have a great puzzle that made use of having two characters around, the rest feels like wasted potential.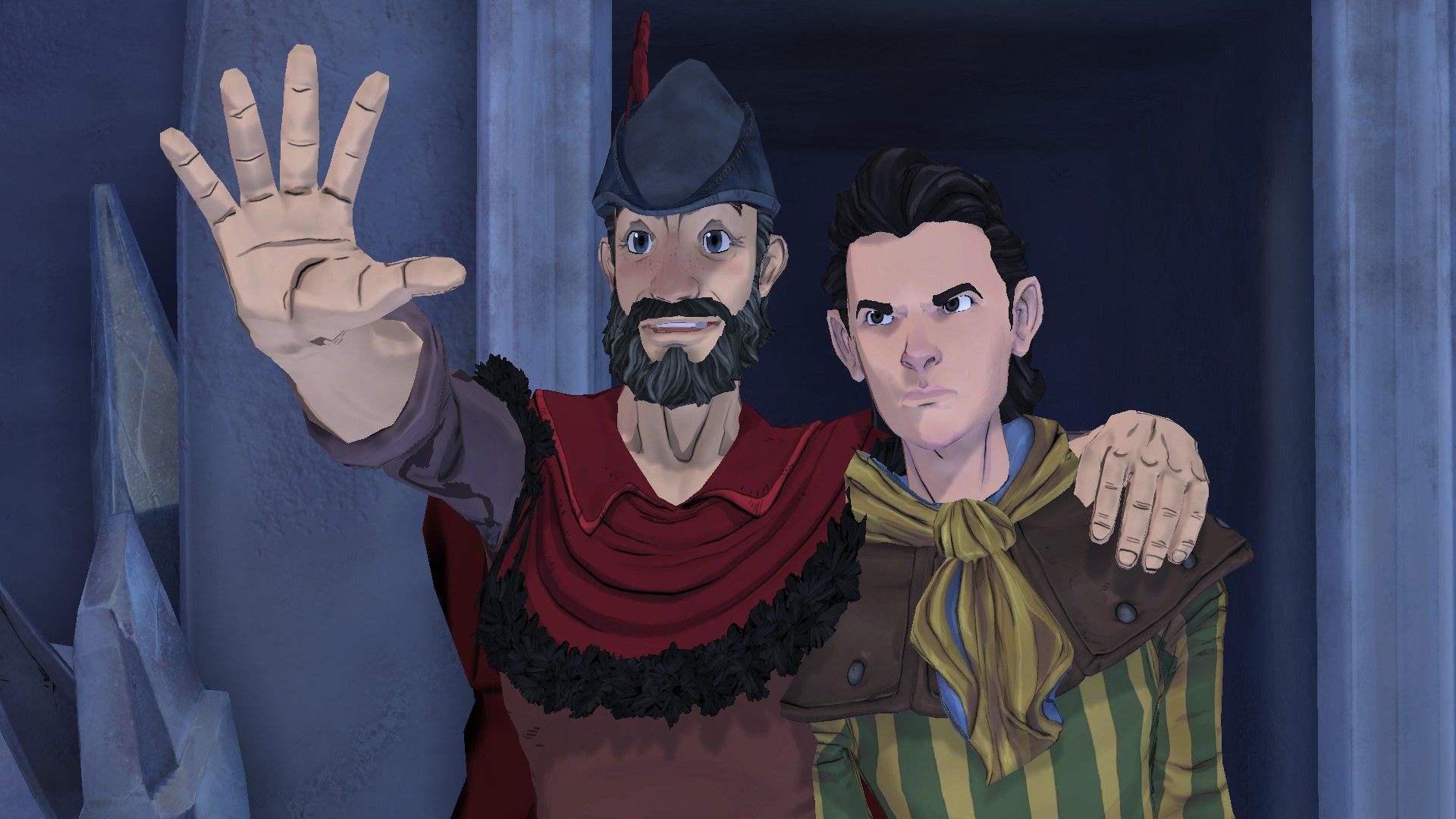 Visuals
King's Quest "Snow Place Like Home" looks good. Even though the chapter is constrained by its setting, the art team has still created a very interesting level. The unintelligible ice creatures that live among the tower's carving and the unique take on the mythical sphinx help give life to the tower. I was thrilled to see a room inspired by the works of M.C. Escher. While it's been well over a year since the first chapter was released, the graphics have aged quite well for the most part. It is clear that the game is still designed to be running on last generations hardware in "Snow Place Like Home" as there are several scenes featuring reflections in the ice that are extremely pixelated.

Audio
The voice acting in King's Quest "Snow Place Like Home" is excellent. There are a few lines that just miss the mark, but they are only obvious because the rest of the voice acting is so good. While I wish a few more characters from previous chapters would make cameos in "Snow Place Like Home," the voice acting for the newcomer the Sphinx was fantastic. The voice actor did a great job creating a sultry voice that was cool like the ice palace and just a bit creepy. While playing a much smaller role in "Snow Place Like Home," the sound effects and music were solid.

Overall
While the excellent story saves "Snow Place Like Home" from becoming King's Quest's weakest chapter, it is clear that The Odd Gentlemen are struggling with consistency. The game is polished as usual. The heart warming story touches on themes that appeals to every and is likely extra special for those who grew up playing King's Quest as they likely have children of their own. Unfortunately, the uninspired puzzles waste some golden opportunities for some great experiences and turn "Snow Place Like Home" into a dull chapter.
Capsule Computers review guidelines can be found here.