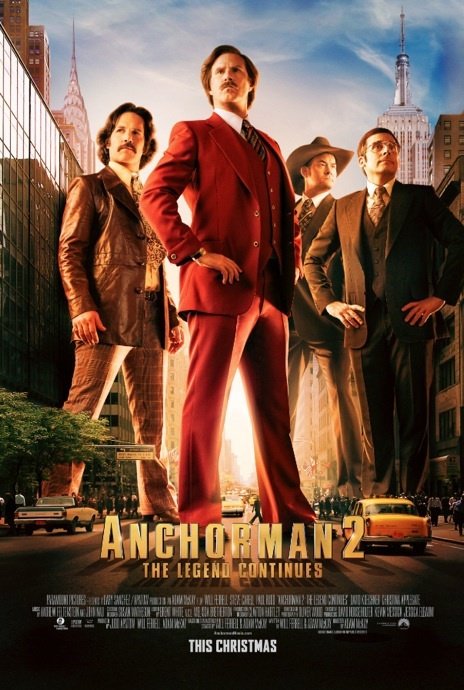 Anchorman 2: The Legend Continues
Studio: Apatow Productions/Gary Sanchez Productions
Publisher: Paramount Pictures
Format: Cinema 2D (reviewed at Event Cinemas George St.)
Release Date: December 19, 2013 – Buy Tickets Here
Overview
Nine years after the release of one of the consensus funniest motion pictures of our generation in Anchorman: The Legend of Ron Burgundy, comes its hugely anticipated sequel. Anchorman 2: The Legend Continues sees the return of Ron Burgundy (Will Ferrell), Champ Kind (David Koechner), Brian Fantana (Paul Rudd) and Brick Tamland (Steve Carrell) after their lives took greatly diverging paths. It's extremely difficult to live up to the lofty expectations fans have placed on the movie, and so that brings us to the million dollar question… does Anchorman 2: The Legend Continues bring the laughs? "By the hymen of Olivia Newton John!", yes it does!
Story
"You stay classy, San Diego", sadly, no longer applies as Ron and Veronica Corningstone (Christina Applegate) – now married and parents to a 6 year old boy named Walter (Judah Nelson) – have moved to the 'Big Apple' to pursue prime-time, co-anchor spots for a big-leagues national news network. Unfortunately, news-casting titan and boss-man Mack Tannen (Harrison Ford) is on the way out, relinquishing his duties as lead weekday anchor. Why is that so bad? I mean, a promotion may be on the horizon for the duo, right? Well, you'd be half-right. Mack proceeds to flirt with Veronica as Ron awkwardly and inappropriately quips, in an awful Italian accent, "you like-a the merchandise?!" Mack is a fan of her… "work", but considers Ron "the worst anchorman I have ever seen!". He fires Ron, who is fuming upon arriving home, getting into a row with his successful wife and bringing back to the fore the issues of gender-equality and misogyny that were the underpinning themes of the first film. "It's me or the job!".
Needless to say, Veronica is a business-oriented woman, and so Ron is sent packing back to San Diego, falling into a drunken existence doing side gigs like introducing presenters at Sea World. One failed suicide attempt later, a gift from the Gods arrives in the form of producer Freddie Schap (Dylan Baker), who has a proposition for Ron – an opportunity at the revolutionary upstart Global News Network (GNN). Although the concept of 24 hour news boggles Ron's mind, he accepts and ventures to get the old gang back together. David Koechner as Champ Kind is the first to be visited and earns some of the best laughs of the first act, refusing to let go of his and Ron's embrace and then dishing on the true ingredients in his "Whammy! Chicken". Brian has become a star photographer for Cat Fancy magazine and, finally, Brick is… dead. Or so everyone thought, attending his funeral only to find him giving his own eulogy. Steve Carrell is a consistent scene-stealer once again, bringing his trademark innocence and charisma to the outrageously stupid character of Brick Tamland.
Together again, they arrive in New York (once more for Ron) and get acquainted with their new workplace, ratings competition in Jack Lime (James Marsden) – the "best in the biz" – and their African-American, female boss, Linda Jackson (Meagan Good). As previously mentioned, the controversial gender-equality arguments, topical and timely in the first (set in the 70's) are briefly re-tread here, but the bigger problem for Ron in particular is Linda's race. They didn't call them the "turbulent 80's" for nothing, and rampant racism was a significant part of that. In this case, Ron cannot seem to get over the truth that his manager is black, literally finding himself helpless against the urge to repeatedly blurt out the fact of her skin colour. Thankfully, this is done in such a way that just makes Ron look like a complete buffoon, rather empowering Ms. Jackson and sending the right message. In actuality, Linda works under GNN's true innovator and creator, the Australian Kench Allenby (Josh Lawson).
Throughout their budding careers at the station, rivalries are born, ratings rise, love is found, news becomes entertainment and journalistic integrity is tested, leading to a turn of events that alienates Ron from his best friends and dives into absolutely ludicrous territory. Without giving much away, there is a strong shift at the end of the second act that sees Ron take residence in a lonely lighthouse, blind to the world around him. The ensuing third act doesn't let up with the humour, per se, but it does slow down, which is understandable (some might say inevitable). Ron pays more attention to his responsibilities as a father too, but I feel like the change in narrative focus is, not sudden, but maybe slightly undercooked. Nonetheless, the film doesn't suffer too badly from this alteration in direction. Fans will love and appreciate the multiple callbacks: Baxter saving the day (and talking!… in text again), Ron's outstanding flute playing, a huge multi-national news team brawl – featuring numerous superstar cameos, some of which are extremely fun and genuine surprises – and even a nod to Will Ferrell's ice-skating comedy Blades of Glory (2007).
Visuals & Audio
Ah, the early 80's… the age of the perm, poofy hair and pastels. Transitioning from the 70's, Ron and the gang undergo an ever-so-slight transformation to usher in the new decade. The set designers and wardrobe department did a groovy job in encapsulating the era, for better or for worse. Never again has the colour teal been so popular. 80's kids will also rejoice in the soundtrack choices here, with Christopher Cross' "Ride Like the Wind", John Waite's "Change", Neil Diamond's "Shilo" and Kenny Loggins' "This is it" featuring among others. And just like the prior movie, there are numerous quotable bits that demand to be re-listened to on the Anchorman 2: The Legend Continues OST. Visually, a few scenes were more involved and complicated then you would expect from a comedy genre-piece…
Early on, the former Channel 4 news team flip their RV after Ron leaves it on cruise control, not realising it only regulates speed. Almost like a Final Destination set-up, before it begins to spin out and roll, certain objects – a deep fryer, a enclosure of scorpions and a bag of bowling balls – are highlighted in the space through dialogue and are given overt camera focus. With everything (and everyone) in motion, being thrown around like ragdolls, we see the searing liquid burn Champ's face, bowling balls strike the wind out of Brick and a scorpion latch onto Ron's tongue in a beautiful, zero gravity-esque, slow-motion sequence. Oh, and yeah, there are explosions in Anchorman 2: The Legend Continues, in a scene reminiscent of front-line warfare. In the same set-piece, however, a less impressive technical feat – to say the least – was a badly green-screened Harrison Ford, who was obviously not present on the set that day, but later keyed in during post-production.
Overall
Adam McKay and Will Ferrell have produced a rarity in the genre – a sequel that is just as funny, if not more, than its predecessor. Much of the film's comedic successes can be attributed to the crew's trademark improvisational approach, and when your cast includes such quick-on-their-feet, seasoned funnymen as David Koechner, Paul Rudd, Steve Carrell and Will Ferrell himself, that's a recipe for pure gold. The humour is signature Ron Burgundy silliness taken to the umpteenth level as Anchorman 2: The Legend Continues is leaps and bounds more absurd than the first, and I loved the film for it. It is also a surprisingly strong satire and commentary on the death of TV journalism, with a life lesson to boot… DO NOT swim out to reunite with a grown great white shark, even if you did raise it. "Say whaaaat?!" 

Capsule Computers review guidelines can be found here.