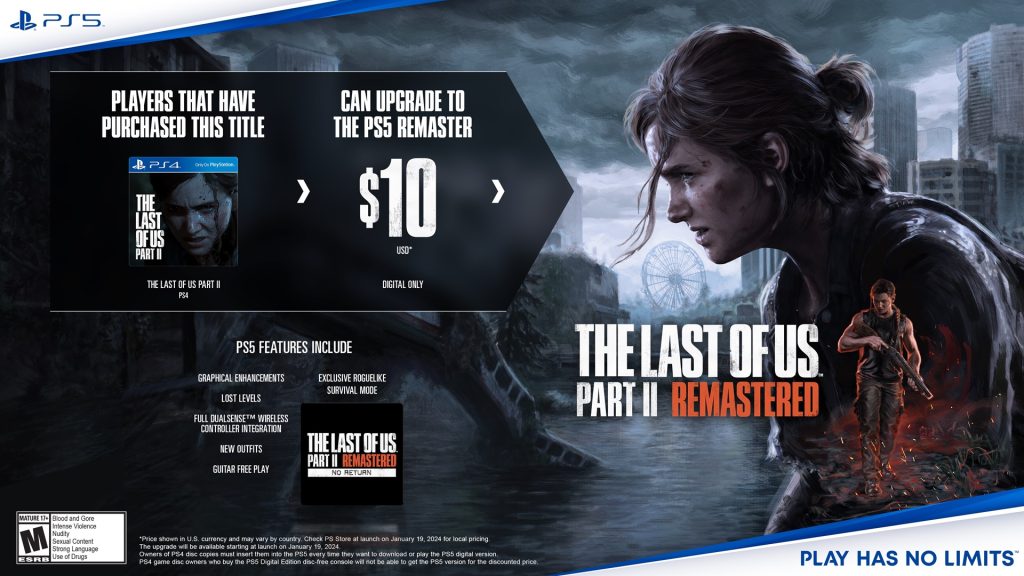 What's better than a new game? How about a remaster of a game barely three years old? Naughty Dog and Sony have announced that they will be releasing The Last of Us Part II Remastered on January 19, 2024 where both a standard edition and "W.L.F." edition are being released though a price for either version has yet to be revealed. The special W.L.F. edition will include a steelbook case, four enamel pins, a Washington Liberation Front Patch, and a total of 47 Society of Champions trading cards. Thankfully, unlike their second remaster of the first game, Naughty Dog won't be charging an arm and a leg for those who already own the PlayStation 4 version of The Last of Us Part II that released three years ago. Instead those who have that version can choose to upgrade for only $10 extra.
Besides the standard enhancements the game will also feature a number of new elements that allow players to play through a selection of unfinished levels that weren't included in the final game as well as a new mode called No Return. This mode will be a roguelike survival mode that will allow players to select from a number of different characters and take on randomized encounters to experience the game's combat system in fresh ways.
There will also be a "Guitar Free Play" mode with different characters as well as an extensive embedded developer commentary for those who want to learn about the game's various sequences as they play through it. The announcement trailer for the remaster can be found below.