The Longest Night of Museums will feature 15 naval museums from all over the world in a 17-hour stream packed with virtual tours, historical quizzes, and attractive prizes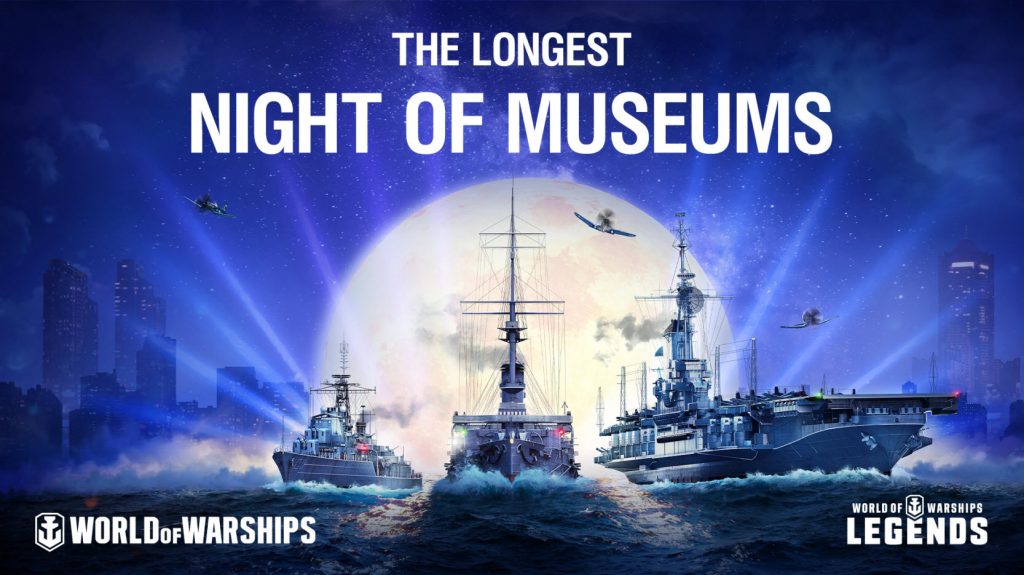 AUSTIN, TX (May 13, 2021) – Wargaming, developer and publisher of the widely popular, free to play naval combat game World of Warships (WoWS) is pleased to reveal the Longest Night of Museums. The global showcase will feature 15 different historical naval museums from around the globe. Join virtual museum tours and live Q&As with the historians on International Museum Day, May 18, 2021 with over 17 hours of content available to watch for free starting at 3:40 a.m. EDT. The Longest Night of Museums will be streamed live on World of Warships and World of Warships: Legends YouTube and Twitch channels and on Steam. 
Museums and historic sites have felt the brunt of the pandemic, and with travel and tourism still largely restricted, digital activities are vital for these organizations to maintain a connection with the public and continue to bring the world's naval heritage to life. Longest Night of Museums brings together museums from around the world starting in Japan with Mikasa Historic Memorial Warship, traveling across Australia and Taiwan to Europe with a trip to the National Museum of the Royal Navy in the UK and Maritiman in Sweden, ending in North America with a visit to Pearl Harbor.
"We are excited to participate in World of Warships Longest Night of Museums. This is a great way to showcase some of the most prestigious warships around the world to a global audience," said Steve Banta, Executive Director of the USS Lexington Museum. "We are proud to share an exclusive look at USS Lexington, which became known as the 'Blue Ghost' during her historic WWII service."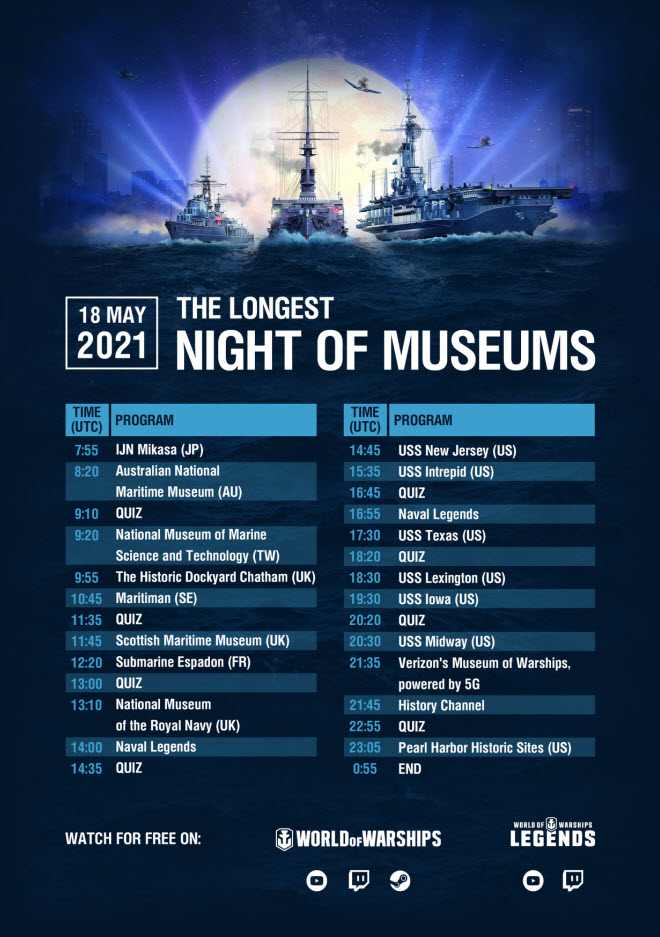 During the livestream, viewers will be able to get live and exclusive virtual tours of these iconic historic sites, with in-depth Q&A with guides and historians from the museums. In addition, viewers will be able to take part in quizzes related to the featured museums and win World of Warships prizes. Twitch drops and Twitch containers will also be available for viewers.

Wargaming also partnered with Verizon who will present their brand-new Museum of Warships AR experience for the first time, and the History Channel who will present documentary content during the stream showcasing some of the biggest naval events in history.

"Naval museums around the world keep a wealth of knowledge and important lessons from history, which were unfortunately largely inaccessible for the past year. We at Wargaming know that each museum has a unique story to tell and we want to shed some light and bring them to our wide audience of history enthusiasts," said Marko Valentic, Global Product PR Manager from Wargaming. "We're thrilled that so many museums decided to join and celebrate International Museum Day with World of Warships and World of Warships: Legends."

World of Warships has the largest collection of historically accurate ships available to play, and is proud to support the global community of museums and heritage sites. The game has over 400 ships available to play, most of them designed based on historical documents and actual blueprints from the first half of the 20th century. Since the launch of World of Warships in 2015 and World of Warships: Legends in 2019, 50 million player accounts have been recorded.

The Longest Night of Museums takes place on May 18th from 03:40 a.m. EDT to 9:00 p.m. EDT. The event is completely free to watch. To watch the global tour visit:
For more information and to view the full event timings visit here.
About World of Warships
World of Warships is a free, historical, online combat PC game from Wargaming. With its massive fleet of most iconic war vessels, including four different ship classes and strategically designed environment, World of Warships provides the ultimate naval warfare gaming experience, suitable for everyone. Thanks to its largest collection of historically accurate ships available to play, World of Warships prides itself as a digital ship museum and a focal point for naval history enthusiasts. New thematic content and innovative game modes are being added on a regular basis, providing a diverse and exciting gameplay to its broad player base.

One franchise – multiple platforms
After the successful launch of World of Warships on PC, its unique gameplay and design has been adapted to bring free massive naval battles to other platforms with World of Warships: Legends available on PlayStation and Xbox and World of Warships Blitz on iOS and Android mobile devices. Official website: http://www.worldofwarships.eu

About World of Warships: Legends
Experience epic naval action in World of Warships: Legends, a massively multiplayer online game where you can master the seas in history's greatest warships! Recruit legendary commanders from maritime history, upgrade your vessels and stake your claim to naval supremacy with or against players around the world in thrilling and immersive battles.
World of Warships: Legends brings the online naval action loved by millions to home consoles for the very first time, alongside a host of content and features exclusive to the console experience.
Official website: https://wowslegends.com/

About Wargaming
Wargaming is an award-winning online game developer and publisher headquartered in Nicosia, Cyprus. Operating since 1998, Wargaming has grown to become one of the leaders in the gaming industry with 4500+ employees and offices spread all over the world. Over 200 million players enjoy Wargaming's titles across all major gaming platforms. Their flagship products include the massively popular free-to-play hit World of Tanks and the strategic naval action game World of Warships. Official website: www.wargaming.com